5 Reasons to Use Smart Outdoor Lightings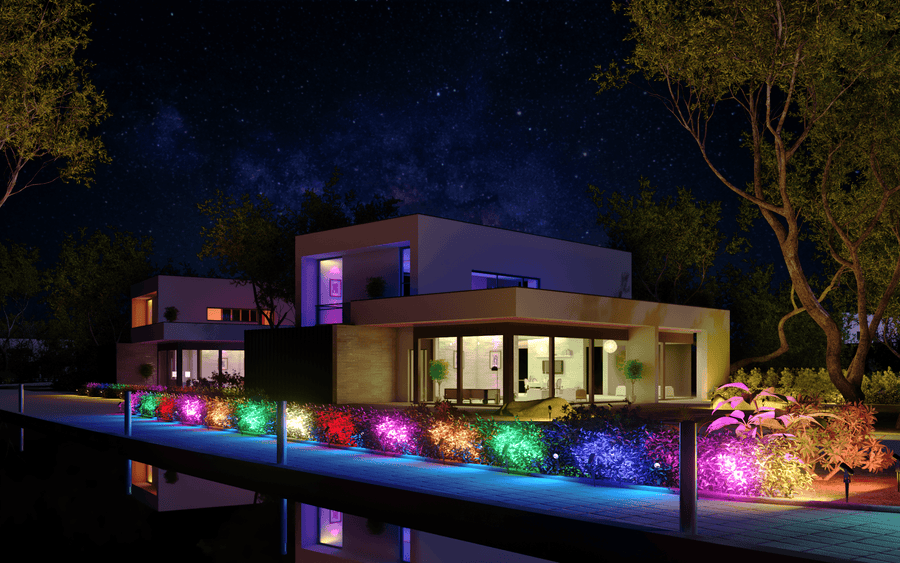 Good outdoor lightings can substantially improve the beauty of your back garden, patio, balcony or other outdoor areas in the evening night scene. However, conventional outdoor light series have greater limitations, at this time the convenience and versatility of intelligent LED outdoor lights can give you a very great enjoyment. 
Fully Automated Outdoor Lights
Traditional outdoor lights must be turned on manually by yourself. Just imagine, whenever the sun goes down, you hurried to find the switch in the dark environment, not only easy to fall, if you encounter extreme weather will cause damage to your own safety. If you are using smart outdoor lighting, then you do not have to worry about this problem, just need a smartphone app, no matter where you are you can control them remotely. Under certain conditions, use the Lumary app to set the color as well as brightness of the lights you want with just a tap on the screen.
Apple Siri Voice Control
Gone are the days of fumbling with keys in the dark with Lumary smart lights. You never have to worry about forgetting to turn them off, because it's just as easy to turn off the lights via your phone. Lumary also allows to set the lights to turn off automatically at a fixed time, so you no longer have to manually adjust and turn the lights on and off. It also supports iPhone siri voice control, just set some commands for each bound light inside Lumary app and then add Siri voice control, you can control our lights by Siri voice.
Excellent Waterproof Function
The excellent waterproof IP65 rating can adapt to all kinds of extreme weather, such as: heavy rain, heavy snow, heavy sun. No need to worry about the bulb breaking because of the weather as well as short circuit.
Connect your indoor and outdoor with smart lights
When we use lighting fixtures on a daily basis, we manage outdoor lighting and indoor lighting separately. Now with Lumary app you don't have to go through that trouble, you can access all the bundled smart lights through our app. Let's say, when your outdoor string lights are on, you can set your living room lights to be on as well.
Perfectly Match Your Home Decor
Thanks to an expanding collection of stylish outdoor LED smart lightings series, the Lumary Smart Outdoor Lightings can perfectly match your home's existing decor. While only a handful of outdoor fixtures are currently available, from DIY scenes to many other color-enabled options, the Lumary outdoor selection has something for everyone. Illuminate the area around your front or backyard with smart ceiling lights, guide you through your garden with smart landscape lighting, or give your backyard a more colorful and vibrant look with smart string lights!
---