Apply These 7 Secret Techniques To Improve Smart Outdoor Light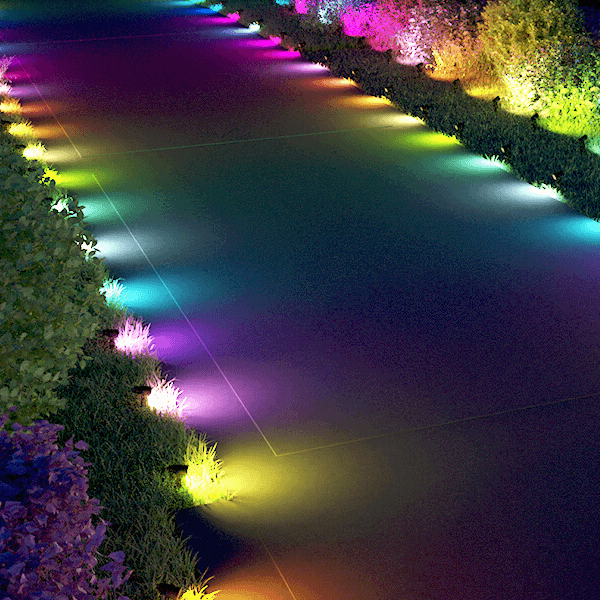 People nowadays use the internet to find the best tips for improving outdoor lighting. In fact, nothing beats natural lighting like sunlight. However, the introduction of LED lighting into the market completely altered this concept. Smart outdoor string light fixtures stand out in a crowd of traditional lighting sources no matter how large your area is.
Lumary Smart Outdoor String Light is an app-controlled smart outdoor lighting solution. It has the ability to set a schedule, turn it on and off automatically, and sync it with other smart devices in the house.
Many homeowners are installing smart outdoor lights to improve the security of their homes. They have a number of features that can assist you in keeping an eye on your property even when you are not at home. In this article, we'll look at seven simple hidden tricks for improving smart outdoor lighting.
1.
 

 Make sure the lights can be controlled remotely

Set schedules and timers to control your lights from anywhere. Use the time frames to create a personalized schedule that works for you. Set schedules and timers to control your lights from anywhere. Use time frames to create a personalized schedule that works for you. You can illuminate outdoor areas with a variety of practical and simple-to-install lighting tricks. The more light that is always present in outdoor areas, the safer it is for everyone who chooses to spend time outside!

You can also use an app to monitor them at any time using the password protection on these lights, so you don't have to be present to ensure everything is working correctly. Lumary smart lights for your outside networks - a bright future! You can control the lights in real-time so that you can incorporate them into your security system! They can all be programmed to respond, but they don't have to be hard-wired. You can also control them remotely, eliminating the need to be physically present for them to function.
2.
 

Easily replaceable bulbs & individual bulb control

The advanced design of the parallel connection allows the individual to control a bulb on/off or change the color, and if one of the bulbs fails, the other bulbs continue to work normally. Each light's color and brightness can be adjusted independently. If one of the bulbs in the center fails, the other bulbs will continue to function normally. Everyone can individually control the brightness, colors, and switches. Almost all of the lights in most other brands' string lights may not work normally if one of them is broken.
1.
 

Make sure the lights are off when not in use

Turn off the lights the next time you're about to leave a room for an extended period of time. It's a small change that can save you money and energy. As a homeowner, you have the opportunity to improve the efficiency and security of your outdoor living space. A smart hub and smart outdoor lights can be used to create Lumary smart outdoor lighting. Smart lights can be installed to generate artificial light, ensuring security and visibility even when darkness falls. This can be a great way to add safety and security to being outside. If you believe that your outdoor lighting could be improved to be more efficient,

Intelligent timing, turn off the lights after leaving for work, turn them back on when you get home to rest, every minute counts, and don't intentionally turn off the lights when you're in a hurry.
2.
 

The best outdoor bulb has the following features

Outdoor string lights are excellent tools for making any home feel secure. But did you know that smart outdoor lighting can make your home even safer? Use the following

unique features to improve the quality of your outdoor light to ensure you have a smart outdoor light.
Drop-resistant plastic bulbs
RGBAI: a group of lights that can change colors at the same time.
The lamp has an IP65 waterproof rating, and the control box is also waterproof.
Adopt a three-core 22A WG thicker cable that is more durable, has better insulation, is resistant to low and high temperatures, and is not easily broken.
Replaceable bulbs for parallel control
Extinguishing the lights with point control: can let light or two lights alone extinguish
Colorpoint control: can change the color of a single light or several lights individually.
Scene mode: comes with 8 scene modes, but you can also create your own.
New radio frequency remote control
Extra cable ties as a freebie
CRI of white light: greater than 80
Each bulb's base has a hanging hook, making installation simple.
Simpler replacement method; only the bulb housing must be replaced.
4) Lights will turn on when motion sensors are detected
Motion sensors serve numerous functions and can be found in a variety of settings. They are frequently used to detect movement, which triggers a light or other function. Install the motion sensor in a location where you need it to turn on the light when no one else is around. Also, motion sensors are frequently installed in kitchens so that when someone walks past the kitchen, the light turns on and alerts the person that someone is there. Installing a motion sensor can serve as the foundation for an entire home security system, including a central controller, lights, and wall cameras. The motion sensor can also notify you of any intruders in the vicinity. Install motion sensor lights in your home to alert you to move both inside and outside.
5) Set up a live-streaming camera.
Outdoor lights can make your outdoor space more functional and safe with little effort. There are numerous ways to improve your outdoor living spaces by investing time, money, and effort. To get started, organize a personal outdoor lighting workshop. The motion sensor will also notify you of any movement and may trigger a camera. Both home security systems and outdoor security cameras are excellent systems that provide several advantages over other options. Some people only want one or two of the items listed above, and getting started is simple. To deal with delays from mobile phone networks, freeze frames, and non-existent connections, these systems can operate in a variety of ways.
6) Make sure your home is secure.
Lighting is essential for a home's or business's safety. When it comes to outdoor lighting, however, there is some disagreement. It is critical to determine outdoor lighting best practices to ensure that your investment is worthwhile. Gone are the days when you could simply string lights on a pole and not worry about the details of installation. It is critical that you do not expose yourself to power surges, improper grounding, and other hazards. Because many people are learning to use computers for the first time, it is important to explain to them some important things to look for. Installing the smart outdoor string light kit, including Lumary RGBAI Wi-Fi & Bluetooth Outdoor Bulb String Lights 100 ft., has all the features required to improve smart outdoor lighting.
Conclusion
Lumary Smart outdoor string lights are ideal for any home with a porch or backyard. They provide safety and security without detracting from the aesthetics of your home. If you're looking to add lighting to your outdoor space, these seven suggestions should help. Smart outdoor lighting is a desirable feature that is becoming increasingly popular. It is critical to take the time to find the best outdoor light to ensure that your home is properly lit. You'll have the outdoor lighting you've always wanted if you use the recommended features.
---