Brighten up Your Halloween: The magic of our smart lighting products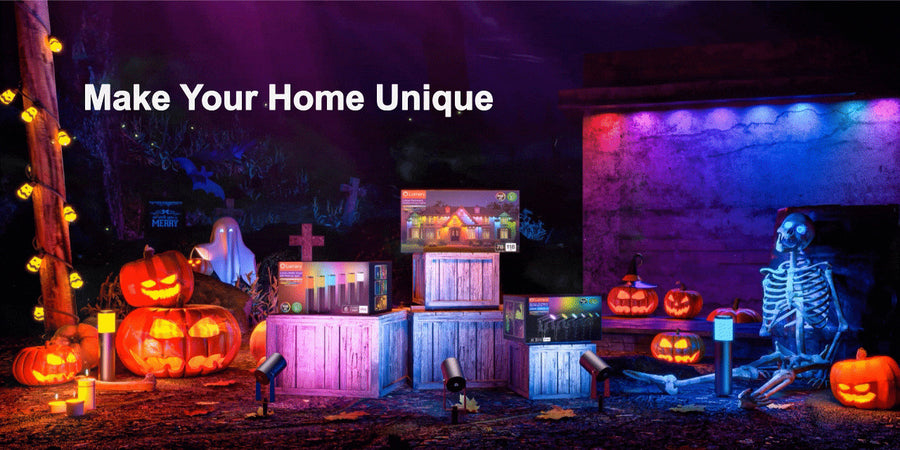 Whether you are celebrating a Halloween party or creating a mysterious festive atmosphere, our smart lighting products will be a great choice for you. In this article, we'll show you how to turn our indoor and outdoor lamps into Halloween inspiration and add a touch of mystical magic to your home.
Outdoor lights: Light up your front yard and garden
1. New Eaves Lights: Mysterious Rooftop Scenes
Description: New eaves lights are installed along the edges of your house's roof, creating a mysterious and warm ambiance throughout your entire home. They can achieve multicolored lighting variations through smart control, such as orange, purple, and green, turning your rooftop into a Halloween haven of ghouls.
Effect Suggestions: Add decorative spider webs, fake bats, and ghosts beneath the new eaves lights to enhance the mystique. Adjust colors and brightness to coordinate with other Halloween decorations like pumpkins and ghosts.
2. Ground Lights and Path Lights: Guiding the Way to Spooky Adventures
Description: Ground lights and path lights can illuminate your front yard and walkways, providing bright navigation for visiting little witches and goblins. Through smart control, you can transform these lights into different colored magical symbols, adding an awe-inspiring effect to your front yard.
Effect Suggestions: Use ground lights and path lights to trace magic symbols, witch footprints, or other mysterious patterns around your front yard to attract kids and families to explore.
3. Wall Lights: Ghosts and Witches on the Wall
Description: Wall lights are mounted on your walls, creating stunning lighting effects. These lights can produce unique patterns and colors through smart control, adding a sense of mystery to your home.
Effect Suggestions: Combine wall lights with Halloween decorations like ghosts, witches, or black cats to create a spooky yet fun scene. You can also set the wall lights to produce changing effects resembling lightning or spellcasting.
These smart lighting products will add infinite creativity and magic to your Halloween decorations. By using smart control to adjust colors, brightness, and effects, you can customize the lighting according to your Halloween theme and preferences, creating an impressive holiday atmosphere. Whether used for parties, welcoming guests, or entertaining children, these products will make your home shine on Halloween night.
---