Bring the right atmosphere to your Valentine's Day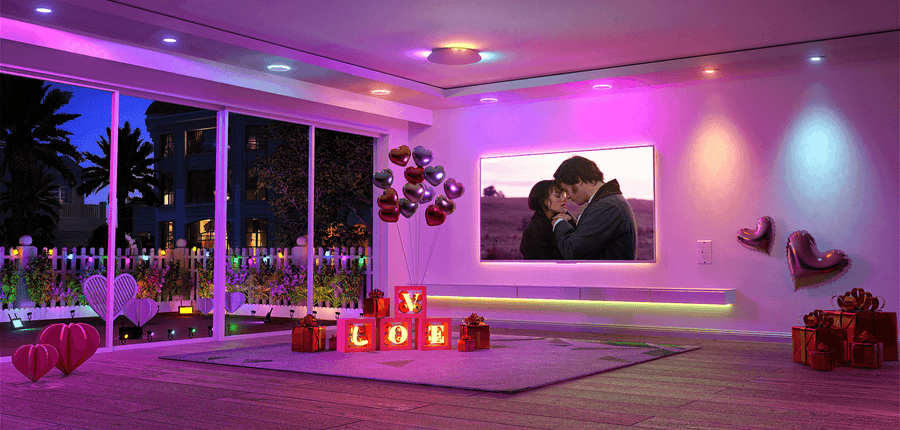 Valentine's Day is coming, are you ready to give a special gift to your partner? If the special party dinner is held at home or in the courtyard, we need to change the lighting accordingly to achieve a romantic atmosphere.
The right atmosphere can bring people closer to each other.Finding the right place and occasion is the quickest way to change the atmosphere, and we can do this by changing the decor of the scene. However, whether it is a date or a party, the lighting of the scene is also very important.
Cool light makes people improve their attention, warm light can make people relax, and the combination of rainbow light can be suitable for all kinds of parties.By adding app control, you can change the light at any time to achieve the environment you want.Lumary's latest RGBAI products make it easy to change the atmosphere.
Lumary Smart RGBAI Recessed Light with Gradient Auxiliary Night Light, the world's first up-and-down recessed light developed with RGBAI technology.The latest smart recessed light, with ample light coverage, offers four modes of Main Light mode, Auxiliary Light mode, RGB atmosphere mode, and RGBAI colorful mode. It's supported by up-and-down lighting, adjustable brightness and 16 million colors, and is compatible with smart voice control solutions including Amazon Alexa and Google Assistant, which can work when you can connect the Lumary smart light to a WiFi connection.Thanks to RGBAI technology, you can set the color you need to use in advance through the app, and change the atmosphere of the scene at special times by simply flipping the switch through the app.
Not only the indoor atmosphere, but if you need to hold a special party in the garden, you can also change the lighting with outdoor lights.
Lumary offers more than one type of outdoor light. You can install landscape lights on the ground and walls, or attach strings of lights in the air in your garden.All outdoor lights can be controlled through Lumary's app, and you can also create groups for them to unify control.
---