Cost-effective Christmas decorations to create a unique home décor.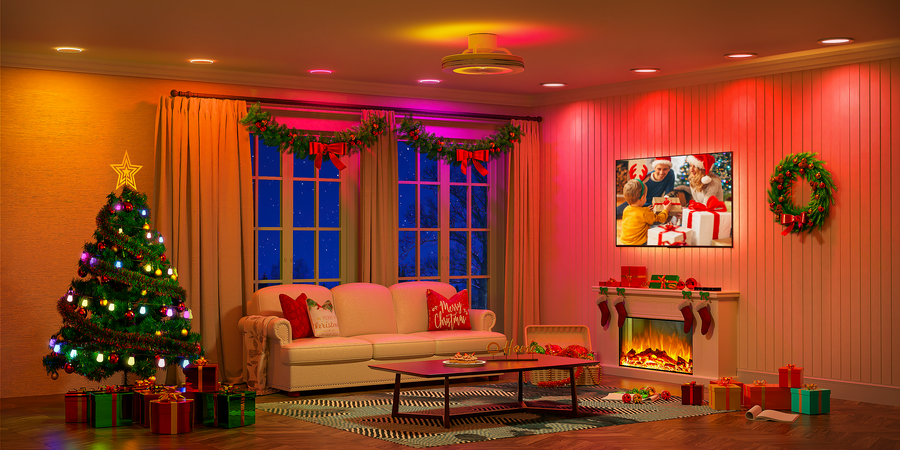 When it comes to decorating for Christmas with colorful lights, it's a feast of light and shadow! The colorful lights work like a magical touch from a fairy tale, illuminating every corner and filling the home with warmth and joy.
Whether it's vibrant light strings, dazzling projections, or window light decorations, they all contribute to a richer festive ambiance. Using multicolored lights to outline the silhouette of Santa Claus or create the magical illusion of snowfall, it's not just decoration; it's an opportunity to provide family and friends with a warm and unforgettable Christmas experience.
As light and shadow intertwine, the joy and blessings of Christmas are visible everywhere, allowing everyone to immerse themselves in the happiness and warmth of the holiday season.

During the Christmas season, decorating your home with lights is an excellent way to create a Christmas atmosphere! Here are some suggestions:

1. External Decorations
- Outdoor Lights:
Use RGBAI smart light strings along the eaves, porch, or fence, setting warm or other colorful combinations according to your preference to create a joyful atmosphere, for example, as shown in the picture:
- Projection Lights:
Christmas-themed projection lights can project snowflakes, Santa Claus, or other patterns onto the exterior walls of your house, leaving a lasting impression, for example, as shown in the picture:
2. Landscape lighting

- Garden Lighting:
Use ground-inserted lights or small spotlights in the garden to illuminate trees, bushes, and decorations. For example, Lumary's landscape lights allow free positioning to direct the light, as shown in the picture:
- Streetlights and Pathway Illumination:
Utilize small bulbs or lampposts along pathways or driveways, allowing guests to safely navigate during the night, for example, Lumary's pathway lights, as shown in the picture:
3. Window Decoration

- Interior Window Lights:
Transform indoor lighting from white to colorful, creating a vibrant Christmas atmosphere indoors and making the exterior view more interesting. Lumary's recessed lights can offer this feature, as shown in the image:
4. Main Focus
- Highlighted Decor:
For the main sections of the villa, such as the front entrance or specific architectural features, use brighter lighting to make them stand out as focal points, as shown in the image:
5. Safety Considerations:
- When setting up decorations, ensure the use of lights certified for outdoor use to prevent safety hazards in damp weather.
- Consider purchasing waterproof fixtures; Lumary's outdoor lights feature comprehensive waterproof designs for safe usage.

- Contemplate using timers to control the lighting, facilitating energy conservation and making the decoration process more convenient.

No matter how you decorate, ensure that the arrangement of lights is safe and reliable, avoiding any danger to yourself or others. Opt for warm and engaging designs to make your villa shine brightly during the festive season!
---