How Smart Lighting Makes All the Difference for Home | Lumary Smart Downlights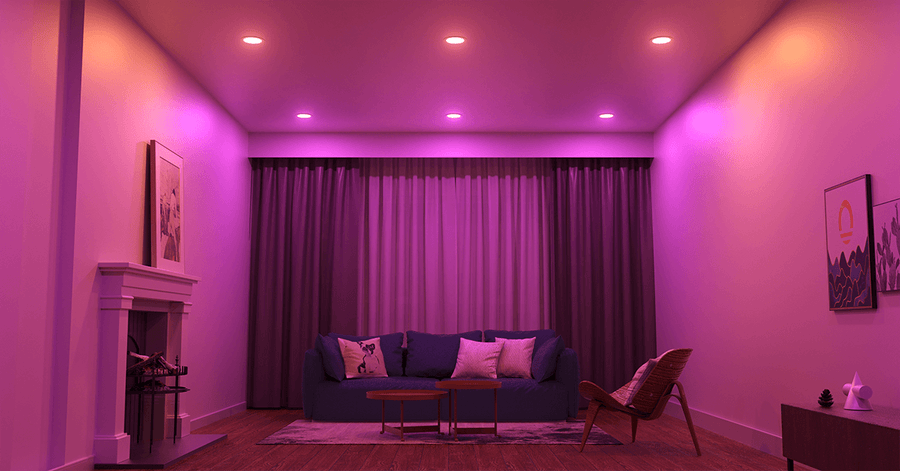 Today I went to a party at a friend's house, their home is so cool, especially the downlights, but also with the music has been changing color, the home instantly high class up!
Switching at will, remote control
APP control & Voice Control:
  Support Lumary APP control, when you go out and forget to turn off the lights, open your phone to easily turn off the lights of your home remotely or turn on the lights creating a sign that you are at home to prevent muggers from invading, support Amazon Alexa, Google Assistant, SmartThings, Siri etc Third-party voice system control, free your hands and turn off lights easily in everywhere at home. Perfect for the elderly and children or other people with limited mobility, change the light color and adjust the brightness with simple commands, and enjoy the smart living experience brought by smart lighting.
 Multiple light effects, light moves with sound
   A variety of light effects, free to change the color, adjust the brightness, properly create a dreamy and romantic atmosphere. Whether the daily work life of white light, warm light, or entertainment color light, instantly raise the value of the home. Light dance with music, music and downlight rhythmic light effect synchronization highly integrated, whether it is a sad love song, or passionate high song, so that the light to keep up with the rhythm of the music, the atmosphere in one step.  it can also flash colorful light with the music beat or ambient sound when the music rhythm light frequency will also be accelerated so that the party atmosphere to reach its peak.
Scene mode as you need
   A variety of scene modes to meet your different needs, and you can also manually set the personalized light mode, whether it is reading, party, leisure, work, etc. can be easily and freely switched to meet your daily lighting and party needs at home, you can manually select the biorhythm function makes the light brighter or darker with your work and rest. It saves energy and is more in line with the human body's work and rest.
Whole house lighting, one button control
Through Lumary APP, you can control the downlight partition grouping and synchronize the lighting status in real time. According to the study, bathroom, bedroom, living room and other different areas of light use habits a key to set the reading, sleep, meeting guests when using the regional lighting experience, so that multiple light control becomes easier.
Download Lumary App, and connect the light to your cell phone (only support 2.4GHz), in the app, you can control multiple lights with one cell phone, save the cost of buying multiple wall switches, and at the same time, you can set the timer switch, set the time to turn on and off the light, the light will automatically switch on and off after setting, no need to operate multiple times, it can support multiple control, create a family group to join all family members. It can support multi-person control.
Power Memory Function
With the power memory function, power failure will retain the last selected settings, when your home suddenly was without electricity but it's on again later, it will remain closed to prevent sudden lighting from affecting your sleep.
When lighting meets intelligence, the Little Harvest Smart Home Bluetooth music rhythm dazzling downlight for you to create a different mood of life. If you have always longed for the intelligent, comfortable and warm lighting atmosphere brought by smart home, you can try to start with a small smart downlight. Not only for you to light up your life, but also to create a romantic atmosphere.
Want to buy or know more information about smart downlight
---