How smart lights make your Christmas fantastic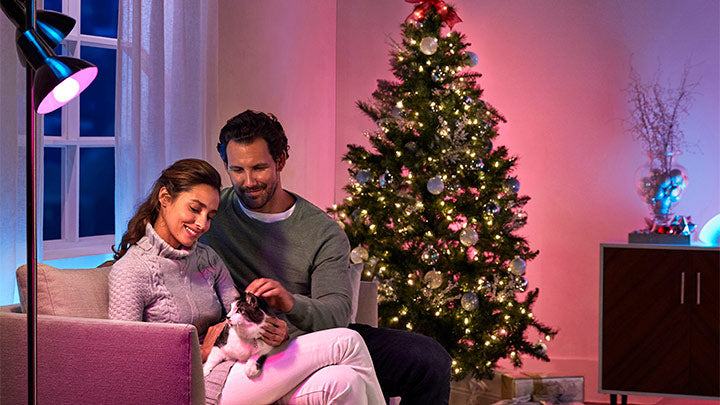 The holidays are upon us, and with them comes joy, excitement, sugar, and chaos. Not to mention, lots and lots of lights. And between running from one event to another, managing your holiday shopping list, and ensuring your house is decorated to seasonal perfection, you're juggling more than your fair share of festive balls in the air. That's why we recommend simplifying at least one of your many responsibilities by picking up some smart Christmas lights.


If you've already tried a Google Assistant, Alexa, or Siri device, you've probably discovered the convenience of being able to control your thermostat, light bulbs, or other devices with a single voice command. So why wouldn't you want to do the same with your Christmas lights?

What are smart Christmas lights?

Smart Christmas lights are, as the name implies, smart home-enabled Christmas lights that work with one or more of the top smart assistants referenced above.

They offer a convenient way to control your decor with either your phone or another smart device with nothing more than your voice. Depending on what you opt for, there are other smart features you can employ, such as automatic scheduling, timers, or geofencing (which turns them on or off when you get home or hit the road respectively).

No more crawling under the tree to plug and unplug the lights or hassling with the logistics when you could be enjoying the shimmer.


When it comes to smart Christmas lights, you've got two options: purchase smart Christmas lights that natively support voice assistants like Alexa, Siri, or Google Assistant, or buy a smart plug to turn your years-old holiday lights into ones that can be controlled by voice or the companion app.

Smart holiday lights have been around for a while, with a variety of brands producing ready-made strands that you can customize and even sync up with your favorite holiday playlist, all from your phone. There are also smart light strips, which you can use to outline your windows and doorways for a dazzling holiday light show display creating your own colors and patterns, or choosing from preset holiday options.
---