Huge Fall Sales on Lumary Bulbs & Fixtures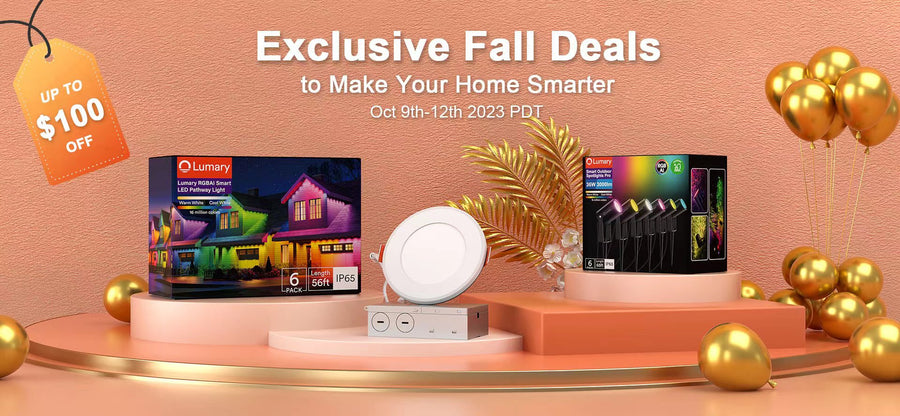 For 6 days only, illuminate your life with customized bulbs, fixtures, and lighting systems at incredibly discounted prices. Fall into brilliant upgrades through Amazon's Fall Flash Sale and Lumary's sitewide promotion from October 9-14.
With smart lighting more affordable than ever, now is the perfect time to install next-level illumination. Take advantage of these limited-time seasonal savings to make every room shine brighter before time runs out!
Introduction
As autumn approaches, it's the perfect time to upgrade your home with smart lighting. Smart bulbs and fixtures deliver energy efficiency, customization, and high-performance luminosity to any space. With intelligent features like automatic scheduling, voice activation, and customized scenes, smart lighting makes illuminating your home incredibly easy. 
Now is the ideal opportunity to install these high-tech lighting systems or expand your existing setup, thanks to two incredible seasonal sales events. This autumn, take advantage of unbelievable discounts offered through a major Amazon promotion, plus our site-wide sale. Keep reading to discover these exciting chances to save on lighting that will enhance your spaces with brilliant illumination this fall.
Huge Savings to Light Up Your Autumn
For a limited time, we've partnered with Amazon for an amazing flash sale on our most popular smart bulbs and fixtures. From October 9-14, you can shop top-rated products on Amazon at incredibly low prices. Upgrade existing lights or install a whole new system for less.
The sale includes a wide selection of smart indoor and outdoor lighting. Automate schedules, control scenes, and illuminate in custom hues at just a fraction of the usual costs. But hurry this lightning deal is only available for four days while supplies last.
And for those looking to build the ultimate custom-controlled system, we're concurrently offering 8% off sitewide. Expand existing setups or purchase bundles at this discounted price directly through our website.
Plus, shoppers spending $699 or more will receive a free Color Changing Night Light. Unlike traditional Night lights, Lumary Ambiance lights utilize our innovative technology. Experience a variety of color gradients, with the lighting offering numerous stunning illumination techniques for an enchanting ambiance. It's a good Christmas gift/children's gift. And top spenders getting $999+ in smart lighting score 12% off their entire order. Reward yourself this fall by outfitting your home with brilliant illumination at these seasonal savings.
Conclusion
This autumn, don't miss out on a rare chance to save big on lighting. Take your spaces from dreary and dim to brilliantly illuminated with discounted smart bulbs that offer the ultimate customization and high-tech control. Seize these seasonal deals with Amazon flash sales from October 9-14, plus ongoing discounts directly on our website.
With smart lighting solutions finally affordable for any home upgrade budget, now is the moment to create the perfect autumn ambiance. Shop on Lumary to illuminate your home smartly this fall. By investing now, you can enjoy energy savings, convenience, and customized lighting for many more autumns. Take advantage of these unbeatable seasonal sales events in fall 2023, and transform your spaces into brighter, more vibrant areas with smart lighting like never before.
---