LED Warehouse Lighting Guide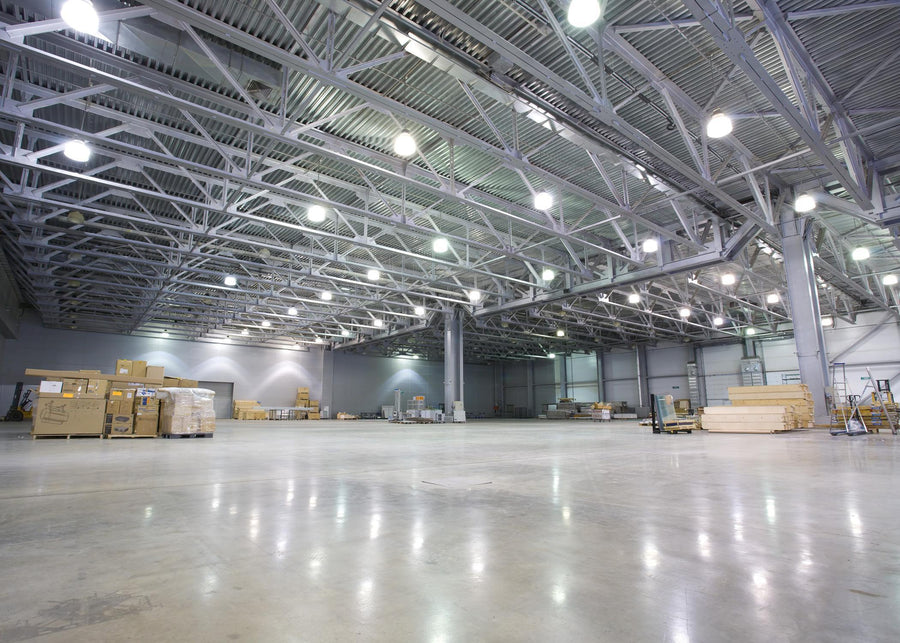 Lighting is a crucial component of any warehouse or industrial facility for proper operation. The light provides visibility for employees and keeps them safe. However, the task of illuminating a warehouse can seem challenging for owners who don't know the correct fixtures for the project.

Numerous LED warehouse lighting options are available on the market, each with a different purpose. As a professional LED lighting supplier, we have the knowledge to help you pick the ideal warehouse light fixtures for your needs.

Keep reading further to learn more about LED warehouse lighting options and their benefits for your facility.

Warehouse Lighting Fixture Options
Each warehouse has different specifications and requirements to ensure the facility is well-lit for employees. Depending on factors like ceiling height and size, you should select a light fixture type designed for the warehouse.

Since most warehouse facilities have tall ceilings, the standard LED light fixtures used in warehouses are high bay lights. These LED light fixtures have high lumen counts and are rated for ceilings ranging from 15-50ft.


These lights are best suited for locations like:

Manufacturing Facilities
Retail Stores
Warehouse Storage
Industrial Facilities

Among high bay light fixtures, the two options available are UFO high bay lights and linear high bay lights. For large warehouses, the linear high bay has a wider angle of illumination to cover large empty areas.

UFO high bay lights are more compact than linear high bays and require only one hanging point for installation. These lights are a great alternative for warehouse owners that want better energy savings.

Along with these high bay lights, there are other required warehouse lights like exit and emergency signs. These signs guide occupants in the case of an emergency to the nearest exit in the warehouse.

Designing a Warehouse Lighting Layout
While developing a warehouse lighting plan, choosing LED lighting options is best for efficiency. These LED lights provide comparable brightness to fluorescent and metal halide options but utilize a fraction of the energy.

While installing LED lighting, you can choose to purchase a complete light fixture or retrofit your existing lights. The retrofit options utilize an LED tube that fits your warehouse's current fluorescent lights.

For the most cost-effective method, the retrofit lighting kits will be a lower investment than replacing all of the light fixtures. However, you will receive the best performance from modern LED light fixtures.

As part of your warehouse lighting, you should emphasize the brightness and color temperature of the lighting. Selecting the right brightness is critical to maintaining a safe illumination level for occupants.

The Kelvin color temperature may not seem important when deciding on the right LED warehouse light fixture. Still, it can greatly impact visibility and productivity within an industrial facility.

Color temperatures between 4000K and 5000K are the ideal choice for warehouse or industrial facilities. This color temperature range emits a cool white light, proven in scientific studies to reduce eye strain and create a more productive work environment.

The ceiling and wall color can significantly affect the illumination requirements. Having lighter-colored ceilings results in a higher reflectance than darker colors. You can utilize fixtures with a lower lumen output for light-colored interiors.

For warehouses with skylights, you can utilize fixtures with lower Lumen outputs. However, you may need additional lights if your warehouse operates at night or when there isn't bright sun during the day. These adjustments will allow you to maximize energy savings and functionality.


What Are The Benefits of Switching to LED Warehouse Lighting?

Improved Energy Efficiency
Enjoy lower energy bills by switching to LED lighting over fluorescent lights. For large warehouse facilities, the large number of light fixtures can add up to costly electricity bills. By making the switch, you can receive better performance and can save 70% of energy costs.

You can maximize light output with LED lights while minimizing your facility's energy consumption. If you've been thinking of switching to LED warehouse lighting, don't hesitate any further. The benefits of changing to LED warehouse lighting will make a big impact.

Warehouse LED lighting provides efficiency and flicker-free bright illumination over an extended lifespan for your facility. Most LED lights have an average lifespan of 50,000 hours. However, some options last up to 100,000 hours.

Lower Maintenance Cost
Cutting costs is difficult for many industrial warehouses, but one of the easiest ways to do it is with LED lighting. With long operating lives, compared with traditional lighting, maintenance costs will be much lower.

Motion Sensor

LED lights with motion sensors light up only when someone is in the room, reducing power usage when no motion is detected or light is not needed, increasing energy efficiency and avoiding energy waste.

For warehouses with tall ceilings, this is an important benefit and improves performance. The process of replacing warehouse high bay lights is extensive, so it's best to perform the maintenance rarely.

LED lights tend to be more durable, and warehouses just need to provide a stable environment for goods, so LED lights are a better choice for warehouse lighting.

Low Operating Temperature

LED lighting solutions operate at lower temperatures, require no startup time, and have a longer lifespan.

UL and DLC certifications

LED lights of high-quality usually have UL and DLC certifications, and you can choose bulbs with both certifications without worrying about safety and quality.

Modern Technology
LED fixtures are constantly improving with new technology. One of the most useful technology features is lighting which responds to the use of the space and compounds the energy savings for the warehouse or industrial facility.

Occupancy sensors are an amazing feature that turns the lights on only when needed. The sensor will trigger the lights when someone walks into the area. Because LEDs don't need the warmup times of fluorescents, the lights turn on instantly and shut off after a period of inactivity.

These technological advancements improve the productivity of industrial facilities and make employees safer. If someone is operating a forklift within the warehouse, an occupancy sensor will give them the illumination they need for the job.

What Are the Benefits of LED Lights?

Following crucial reasons to examine the direct benefits that LED warehouse lighting provides once this upgrade is complete.

1. Safer Work Environment

New LED lights illuminate the aisles and walkways in a warehouse with better brilliance.

2. No Warmup Period

Some bulb types require a warmup. Upgrading to LED lights eliminates that problem. You can switch them on to receive full brightness immediately.

3. Better Productivity

Better lighting also equates to improved visibility.

LED lighting can eliminate shadows and provide more illumination in vital areas, but that upgrade depends on fixture placement, stacking protocols, and facility size.

4. Environmentally Preferred

The lights can reduce the amount of electricity the warehouse consumes each day. Moreover, transitioning from incandescent light bulbs to LED solutions reduces the amount of heat generated within the facility and carbon emissions

5. Simplified Installs and Renovations

The installation process is relatively straightforward for LED lights.

Many LED fixtures are designed with the installation process in mind, creating a secondary advantage for warehouses.

Warehouse Lighting Precautions

To configure the lighting of the optimal solution for the warehouse, you can refer to the following points.

Avoid Glare Whenever Possible

Use reflected light and spot lighting to eliminate shadows and provide consistent lighting areas for all workers in the same place.

Several Control Options Are Available

Various control options are available for the LED lights. For example, technologies such as daylight harvesting, present sensors, and motion detectors can improve the energy efficiency and are a common modern lighting solution in the warehousing industry.

Emergency Lighting Solutions

The use of LED emergency lighting in warehouses in all industrial environments ensures that you still have enough light to do your work if the power goes out for some reason.

Flicker-Free Solutions

The flickering of warehouse lights can make workers' eyes more easily fatigued and affect their productivity. The use of LED bulbs can effectively avoid the problem of light stroboscopic.

Hot and Cool Spot Avoidance

How your light fittings and fixtures are spaced is essential to the overall design of your warehouse when considering your illumination needs.

When they are too close together with their positioning, you'll likely experience more glare and hot spots at the point where the overlapping occurs.

When they are too far apart, you'll receive more shadows and dark areas that limit worker productivity.

LED Warehouse Lighting Is an Upgrade That Makes Sense

You'll get an upgraded lighting experience with LED warehouse lighting that provides both short- and long-term effects. Since you can choose from several different color temperature options, the goal should be to find the right combination of lumen and Kelvin ratings to maximize productivity throughout the day.

While there are a variety of lighting types and technologies available in warehouses today, light-emitting diodes (LEDs) are still preferred for a number of reasons. Available in a variety of color temperatures, shapes and sizes to ensure every facility gets the best lighting solution.
---