Lumary Smart WiFi Wall Outlet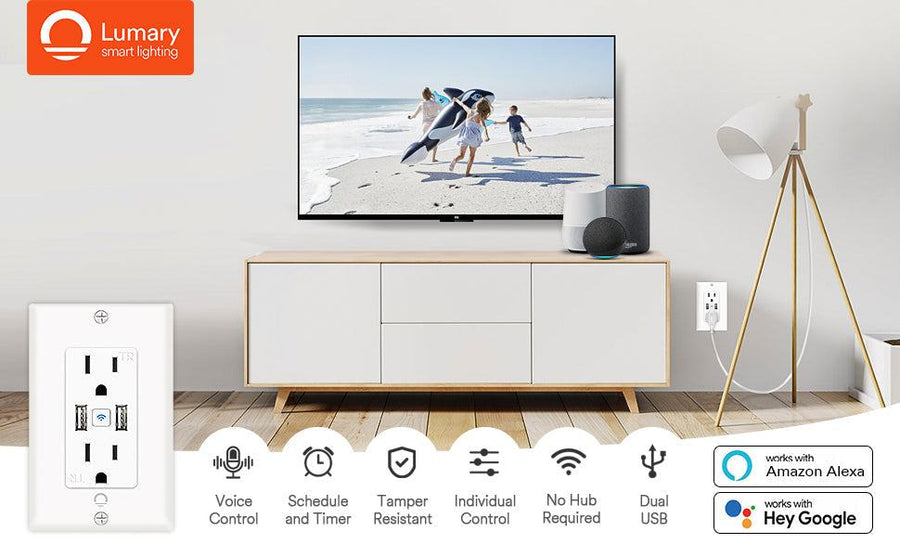 Some may say the ability to voice control everyday appliances with Lumary's Smart Outlet is making me lazy. From my perspective, being able to say, "Alexa, turn on office fan" or "Okay Google, turn off porch light" makes me a much more efficient person. To each their own!
No more nights when I have to get out of the chair to switch on the ceiling fan that is NEARLY 7 FEET above my head. And if I prefer not to speak I can simply grab my phone, open up the Lumary app, and manage any of the devices plugged into my smart outlets. 
Still not convinced you'd like the convenience of smart outlets in your life? Read on to learn more about the

 

Lumary Smart WiFi Outlet.
Features Of The Lumary Smart Outlet
Smart wall outlets work just like standard wall outlets but with some obvious enhancements. With voice control, app control, and scheduling capabilities upgrading to a Lumary Smart Outlet is a simple choice. Here is a quick features breakdown…
Remote App Control
Use the Smart Life or Lumary app on your Android or iOS phone to remotely control your Lumary Smart Outlet anytime from anywhere. A quick check on your app will provide peace of mind that you turned off coffee machine or curling iron before rushing to work in the morning. Or turn on your lights before you arrive home to a pre-lit home.

Set Schedules and Timers
Both of the two sockets as well as the USB ports combined can be controlled independently. This allows for separate timers and schedules for multiple devices plugged into the Lumary Smart Outlet. By providing each socket and the USB ports specific names in the Lumary app you can manage them how you would like. This is great for lamps, fans, space heaters, coffee machines, or any ordinary device that you want to make "smarter."

Voice Control
Both of the two sockets and the USB ports can also be controlled with your voice using either Alexa or the Google Assistant. Simply call upon them by their specific names and you can quickly turn them on or off. It's easy to say, "Alexa, turn off Office Lights" or "Okay Google, turn on Basement Heater."

No Hub Required
Lumary Smart Outlet require no hub, adapter, gateway, or receiver. All that you will need is a phone and the Lumary app (Smart Life app is also compatable) along with a 2.4GHz wifi connection.

Easy Install
Basic electrical wiring knowledge will make installing the Lumary Smart Outlet as easy as any standard wall outlet. But if you don't have any electrical experience the detailed instructions included in the packaging and app will walk you through the process. Installation should take you about 20 minutes.

Setting Up The Lumary Smart Outlet
In order to remotely control the Lumary Smart Outlet you can use the Lumary or Smart Life app. Both are free and work with Android and iOS. As with most of smart home devices, Lumary's smart outlets will only connect to 2.4GHz wireless networks.
Download the Lumary app from

 

Google Play

 

or the

 

App Store.
Register a Lumary account.
Install the Lumary Smart Outlet (detailed instructions included in product packaging).
Connect Lumary Smart Outlet to the Lumary app using Easy Mode or AP Mode.
Lumary app will walk you through the steps to complete set-up including adding wifi information.
Voice-Controlling The Lumary Smart Outlet
Lumary's Smart Outlets can be voice-controlled with both Alexa and Google Assistant. Before beginning, make sure your devices are already set up using the Lumary app as documented previously.
Quick Guide For Google Assistant 
Open the Google Home app and go to Home Control in the menu.
Tap the "+" button.
Choose Smart Life from list of home control partners.
Authorize your account with Google Assistant using the username and password from your Lumary app. Now your Google Home app and Lumary Smart Outlet is linked.
A few things you can say… 
"Okay Google, turn off lights in bedroom"
"Okay Google, turn on coffee machine"
"Okay Google, set living room lights to 20%"
Final Verdict On The Lumary Smart Outlet
If you are ready to build a more connected home than smart outlets are a good way to go. Unlike smart plugs (which I'm a big fan) the wifi connectivity is built right into the smart outlets. And they look like an ordinary outlet, not an outlet that has a smart plug that you then plug your appliance into.
Customer Reviews Of The Lumary Smart Outlet
"We are ALWAYS looking for our plugs for our USB items and it seems that's what everything uses nowadays. I purchased this one for the kitchen which is the main spot everyone likes to charge things. Not only did this free up a lot of space for plugs but it's also a Smart Plug that works with my Alexa!!! Very happy!! – Crystal Murphy on September 4, 2019
"I absolutely love the whole idea of these smart outlets. Anything can become a smart appliance once you plug it into one of these. You can set it to a timer, you can use voice command, its really amazing. Plus it can all be controlled through the app so if you accidentally leave something on or are away unexpectedly, you can turn it on and make it look as though your home. – Lisa on September 5, 2019
"Installation was simple. The neutral is well marked on the rear of the outlet and I do prefer the quick connect with clamping screw over the friction fit because it's easier to remove in the future. – Gman on August 21, 2019
FAQs On The Lumary Smart Outlet
Can I share with family and friends?
Yes, you cans share access to your current and any other Lumary device. In the Lumary app, press the "Profile" button and click on "Device Starting" to give or revoke sharing permissions. In order to share, the other user should already have downloaded the Lumary app and registered an account.
Can I group multiple Lumary devices together?
Yes, you can group multiple same-type devices by room, location, or however else you want. The same devices can in multiple groups. For example, if you create a group for "Bedroom" and another group for "Entire House," your Bedroom lights can be included in bother groups. From your main device list, clic on one of the devices you want to group, press the "🖊️" button on the top right for advanced settings, and click "Create Group." You'll be able to name a new group and choose which devices you'd like to group together.
How many device can I control?
Lumary app can control an unlimited amount of devices in an unlimited amount of locations. Keep in mind, your router may have a limit of home many devices ca be connected to one router.
My Lumary device has a funny name. How do I rename it?
From your main device list, click on one of the devices you want to rename, press the "🖊️" button on the top right for advanced settings, and click "Modify Device Name" You'll then be able to rename
What should I do if the device appears offline or is unreachable?
Make sure your wifi router is online an in range, and check that you have the latest Lumary version by clicking "Check for firmware update" in your device settings. If power is connected but the current is not responding hold down the Restart button to cycle the fuse and give a current a jump start.
What's the wireless range?
The range of you home wifi is heavily dependent on you home router and the conditions of the room. Check with your router specifications for exact range data.
If my wifi/internet goes down, will Lumary app still work?
Luamry products need to be connected to wifi in order to use them remotely. You can still manually turn your outlet on or off.
Be The Superhero Of Your Smart Home
You can teach an old 🏡 new tricks with smart devices. Whether your house is one or one hundred years old it can be a smart home.
---