Stop Your Outdoor Smart Lights From Failing - Do This Now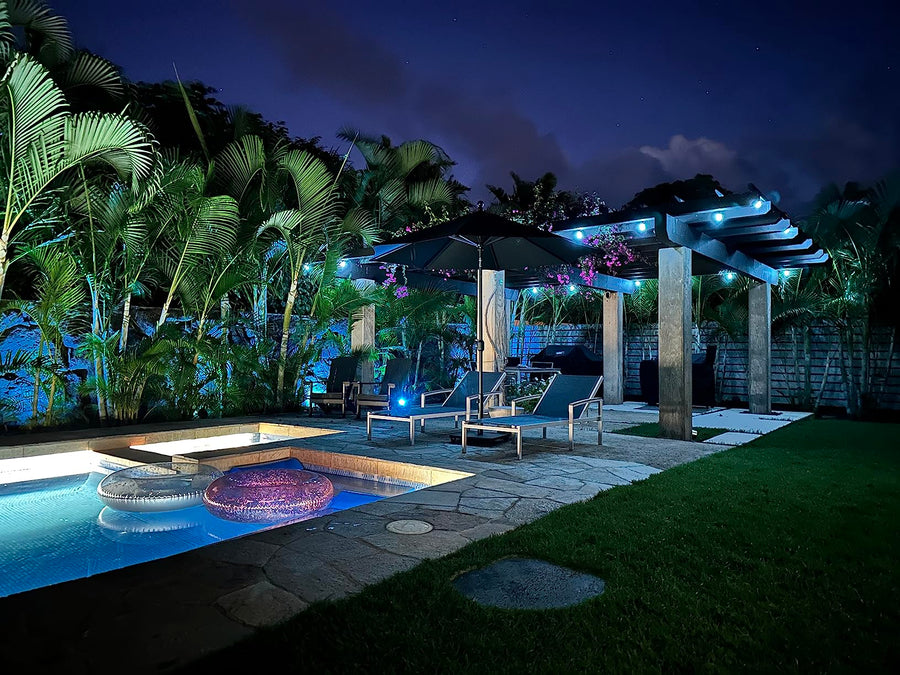 Introduction
Outdoor lighting sets the mood and illuminates your home's exterior. Smart outdoor fixtures with LEDs, wireless controls, and high-tech features require particular care and maintenance to stay in tip-top shape. Follow this guide to learn how to properly maintain modern outdoor smart lighting.
Smart fixtures like LED panels, color-changing bulbs, and WiFi-enabled spotlights may seem durable. However, dust, dirt, moisture, and weather can cause them to underperform or fail prematurely if not properly maintained. The unique tech features of smart lighting also require attention to keep operating smoothly.
With basic routine cleaning and preventative care, your smart outdoor lighting can shine brilliantly for years. Let's explore maintenance tips for protecting your investment in outdoor smart fixtures.
Keep Fixtures Sparkling Clean
The first line of maintenance for outdoor smart lighting is basic cleaning. Outdoor fixtures attract dust, dirt, grime, and buildup from the elements faster than indoor lighting.
Wipe down fixture covers, panels, and bulbs regularly to remove dust, dirt, and debris. Clean off insect or spider webs that collect on the fixtures as well. Use a dry or slightly damp microfiber cloth to prevent moisture damage.
Inspect seals, gaskets, and connection points. Check for any gaps or deterioration that could allow moisture or insects inside. Reseal or replace any compromised gaskets.
Check the lenses on motion sensors and photocells. Use a soft cloth to gently wipe away dirt or buildup that could impede performance.
Give your lights a deeper clean every few months using mild detergent and a damp cloth. Avoid soaking fixtures with liquid cleaners. Check manufacturer guidelines before using any chemical cleaners.

Replace Bulbs and LED Panels Promptly
Burned-out bulbs or failing LED panels will leave you in the dark. Stay on top of replacements so you don't have non-working lights.
Inspect lights frequently for dark or flickering bulbs, as those likely need replacing soon. Replace flickering LED panels promptly as well.
Always use the exact replacement bulbs or panels specified for your fixtures to avoid damage. Record part numbers and specifications to have on hand for reordering.
Handle new bulbs carefully and avoid touching the glass with your fingers. Oils can cause damage and shorten lifespan. Use gloves or a cloth when installing.
Reset any scheduling or timers after replacing bulbs or panels so lights turn on and off at the desired times.

Shield Fixtures From Weather Damage
Moisture and weather elements are the enemies of outdoor lighting. Ensure fixtures stay protected under eaves, overhangs, or covered porches whenever possible.
Caulk thoroughly around the base of fixtures and mountings to create a watertight seal, preventing moisture seepage into wiring or fixtures.
For freestanding fixtures, inspect wiring connections to ensure they are properly sealed with weather-resistant silicone or rubber. Underground low-voltage wiring should also be rated for wet locations.
Store fixtures like string lights or spotlights when not in use. Take down and place in a dry storage area to prevent damage during storms or seasons when you won't use the lighting.

Troubleshoot Smart Lighting Functions
Network connectivity, electronics, and sensors give smart lighting more functionality and more ways for things to go wrong. Stay one step ahead with preventative tech maintenance.
If fixtures with the app or voice control become unresponsive, check the connectivity status in your app and re-connect to WiFi as needed. Also, look for firmware updates.
Clean motion sensor lenses and check alignment. Adjust sensitivity settings if lights are not triggering as expected when motion is detected in the area.
Inspect LED panels closely for flickering or dimming over time, indicating a hardware failure. Replace defective panels promptly under warranty if available.
Regularly test smart functions like color changes, schedules, and brightness settings to ensure everything works as desired.
Conclusion
By taking the time to properly clean, inspect, troubleshoot, and protect your outdoor smart lighting, you'll keep your home brightly illuminated and your fixtures working like new. Routine care and maintenance are essential to maximize investment while avoiding costly repair jobs. Your home's curb appeal and outdoor ambiance depend on fixtures being in their best condition. Give your smart lights some attention this season so you can continue enjoying brilliant, trouble-free illumination all year.
Read More
---