The Reasons Why You Need to Choose Smart Lightings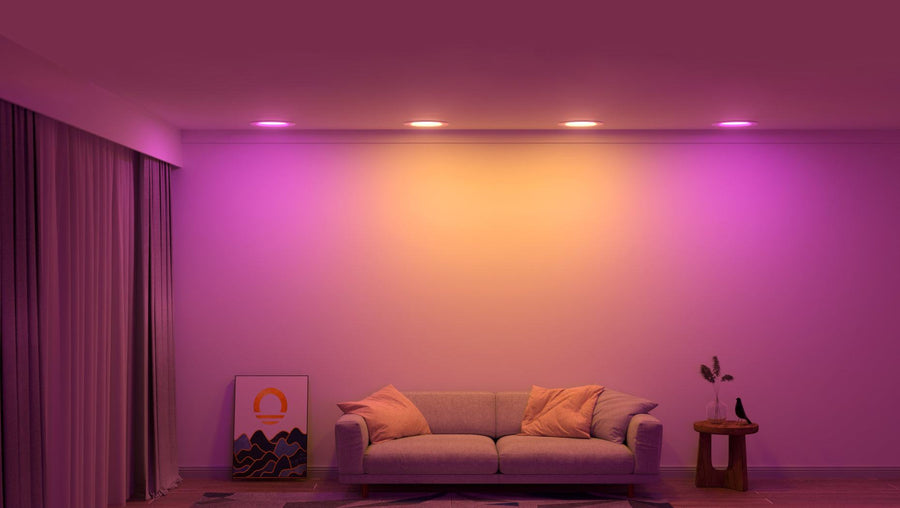 In these times of such rapid development, the lighting technology has been updated and iterated too much. However, we must admit that in the current market, traditional lighting is still the mainstay, and the proportion of it is far greater than that of smart lighting. Many people are left wondering why they should choose smart lighting. Because inside many people's subconscious, it is just a matter of lifting your hand to turn it on and off ......

So, a series of questions about intelligent lighting design come up, what is intelligent lighting? What are the advantages of smart lighting for the home? Why has smart lighting not caught on fast enough and what are its disadvantages? Is smart lighting worth it? What are the mainstream types of smart lighting currently on the market? Let's explore these questions together.
What is 
S
mart 
L
ighting?
Smart lighting is an advanced way to light your home. Smart LED bulbs contain software that connects to an app, smart home assistant, or other smart accessory so you can automate your lights or control them remotely, eliminating the need for traditional wall switches.


What are the 
D
isadvantages of 
S
mart 
L
ighting?
The biggest disadvantage of smart light bulbs is that they're much more expensive than regular lightbulbs. As of this writing, a standard incandescent bulb costs about a dollar, while a non-smart LED light bulb costs around $5. A smart bulb costs around $15 each, and that's not counting additional hub expenses. What's more, the smart bulbs would be more expensive if the higher the power.

Currently there are a variety of smart lighting brands on the market, of which Philips hue is the most well-known, as the most well-known smart lighting brand, it is only natural that the price is not expensive, many people can not accept such an expensive price, because it is not necessary for them, Lumary as the biggest competitor of Philips hue, we have been studying their smart lighting for many years, and currently have put as much as possible to minimize the cost of the product, the same product parameters, you are able to save 1/4 of the money to get the same experience of use.


Are 
S
mart 
L
ights 
W
orth it?
Most smart bulbs use LED technology, which means they're more energy-efficient than traditional incandescent bulbs and compact fluorescent light (CFL) bulbs. You can, of course, just purchase regular old LED bulbs and you'd still be saving energy and investing in a more long-lasting bulb
Why I 
N
eed 
S
mart 
L
ights?
With the rapid development of high technology, traditional lighting has been unable to meet some of our daily needs, such as, sound control, color gradient, biorhythm and music synchronization function. When there are elderly people at home, it is inevitable that they will encounter problems such as difficulty in getting up at night, easy to fall, and the light is too harsh for the eyes.
Smart lighting can perfectly solve these problems, such as by connecting to
Amazon Alexa
, using voice to control the light switch, to avoid accidents caused by physical switches too far away and dark environment. Set the light alarm clock, such as 6 o'clock in the morning automatically turn on the lights and set the light brightness, you can better protect your eyes.
What 
T
ypes of 
S
mart 
L
ighting are 
A
vailable?
In this market, the mainstream smart lighting in the market includes: ceiling lights, table lamps, downlights, strip lights, atmosphere lights, outdoor string lights, outdoor flood lights, outdoor landscape lights and so on.


The Benefits of Using Smart Lighting
Controlling and adjusting lights via smartphone or voice looks amazing, but it doesn't just sound cool, there are so many benefits to converting your regular lighting to smart lighting.

Energy savings
Smart lighting can easily save energy by dimming the lights, and with smart sockets, you can see how much electricity is consumed every day on your phone. When your room is empty, you can turn off the smart lighting remotely through your cell phone, and no longer worry about wasting electricity because you forget. Also using LED light signs can save more energy than traditional lighting.


Comfortable and Convenience for life
Smart lighting can helps those who have mobility issues or live in a home with loud, creaky stairs and light sleepers. Especially for older man, You won't have to physically go from room to room when you forget to turn the lights off. With some bulbs, you're even able to adjust the brightness, intensity, and hue (with the colored LED smart bulbs) from your device.


Completely Personalized for each scenes
Just by moving your fingers on your phone, you will be able to customize different light color gradients according to different scenes, and you will also be able to change the speed of the light color change. If you like to read (in a quiet place), you can change the temperature of the light to relieve eye fatigue.
---