Why Choose Lumary Smart LED Pathway Lights?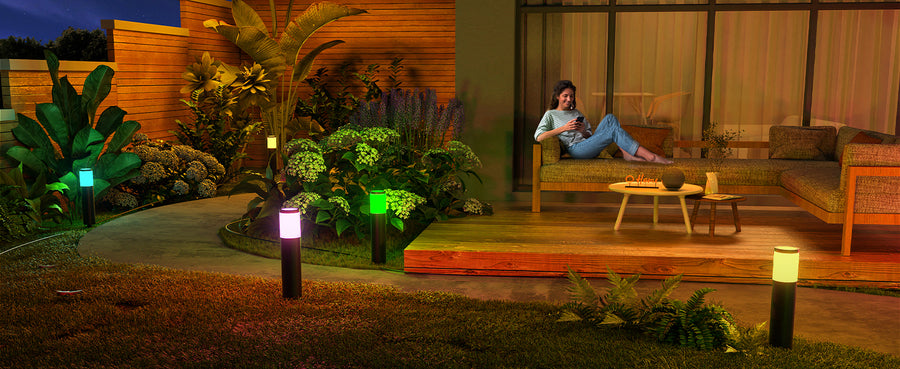 Featuring Lumary's latest and most powerful RGBAI lighting color display technology, the lights can automatically transition through rainbow-like gradients, resembling the flow of water. Currently, the majority of RGB lights on the market can only support single-color changes, and the color transition process is abrupt, lacking any special effects. For example, in today's PC hardware market, an increasing number of people enjoy assembling their own customized appearance and configuration through DIY. The mesmerizing rainbow light effects have become a core factor attracting more and more esports players. With the support of RGBAI technology, the lights provide virtually instantaneous color changes, creating a more pleasant and relaxed atmosphere and offering a more dynamic color transition process.

Furthermore, the 65ft length ensures that the distance between each light is not too short, allowing the lights to cover a large portion of the courtyard area. With an IP65 waterproof rating and metal material, the lights can function properly in any extreme weather conditions, and the weight of each light ensures they are not easily damaged.


Remote control, app control, and voice control provide the utmost convenience to consumers. When hosting a nighttime party, you can simply command Alexa or Google Assistant to change colors or turn the lights on/off, without manually operating the switches and risking dampening your joyful mood. Complete control is achievable through the mobile app, including scene modes, music synchronization, scheduled timers, and support for customizing light colors within DIY scene modes. There are also various preset holiday scene modes to enhance the festive atmosphere to the fullest.

Each set includes six lights, and the 500lm brightness of each light ensures coverage for most of your area, surpassing the brightness of the majority of pathway lights on the market. They are more durable and also support group control, allowing simultaneous color changes for multiple sets of pathway lights.

In summary, Lumary's smart pathway lights are particularly suitable for those who enjoy hosting courtyard parties and appreciate customization and fun.
---