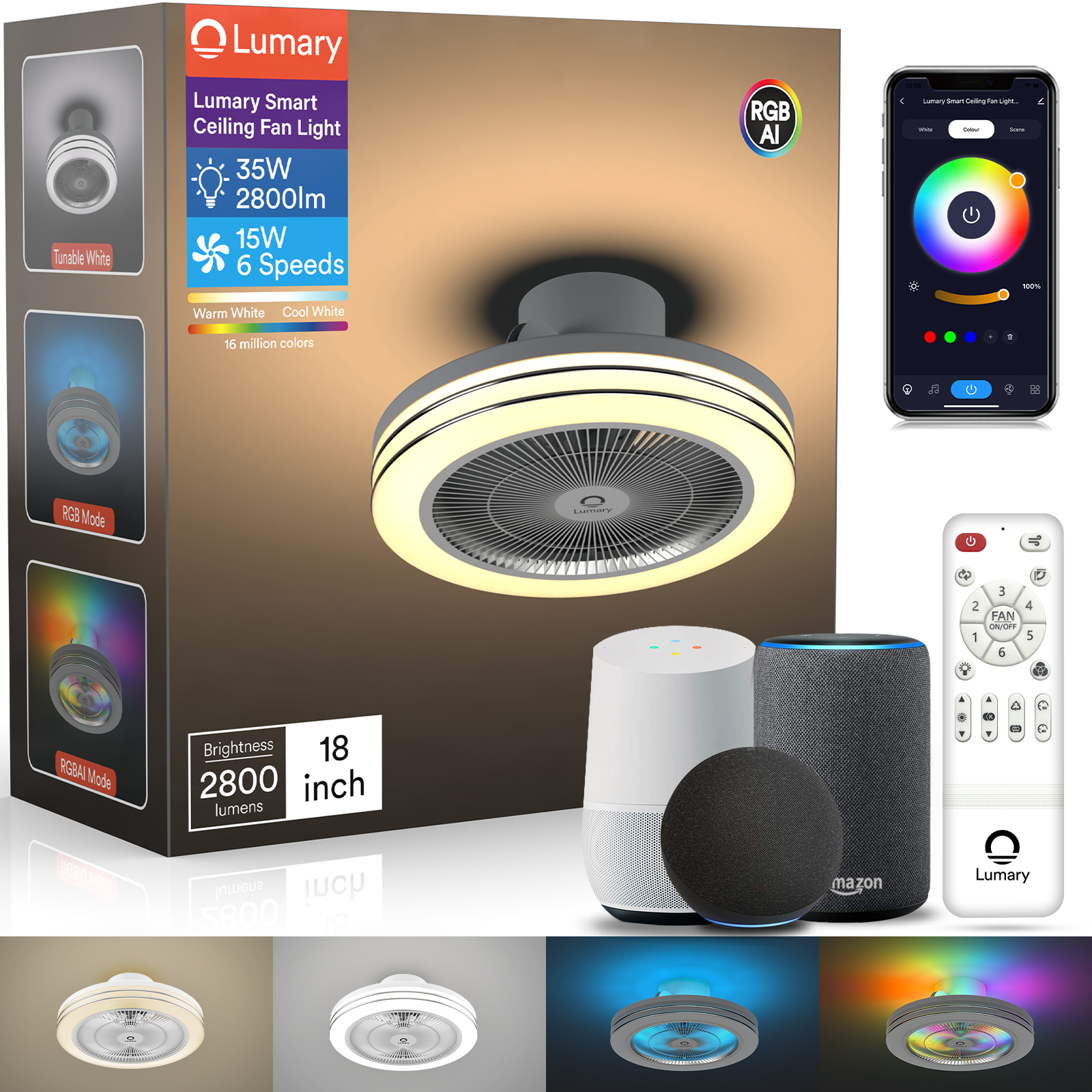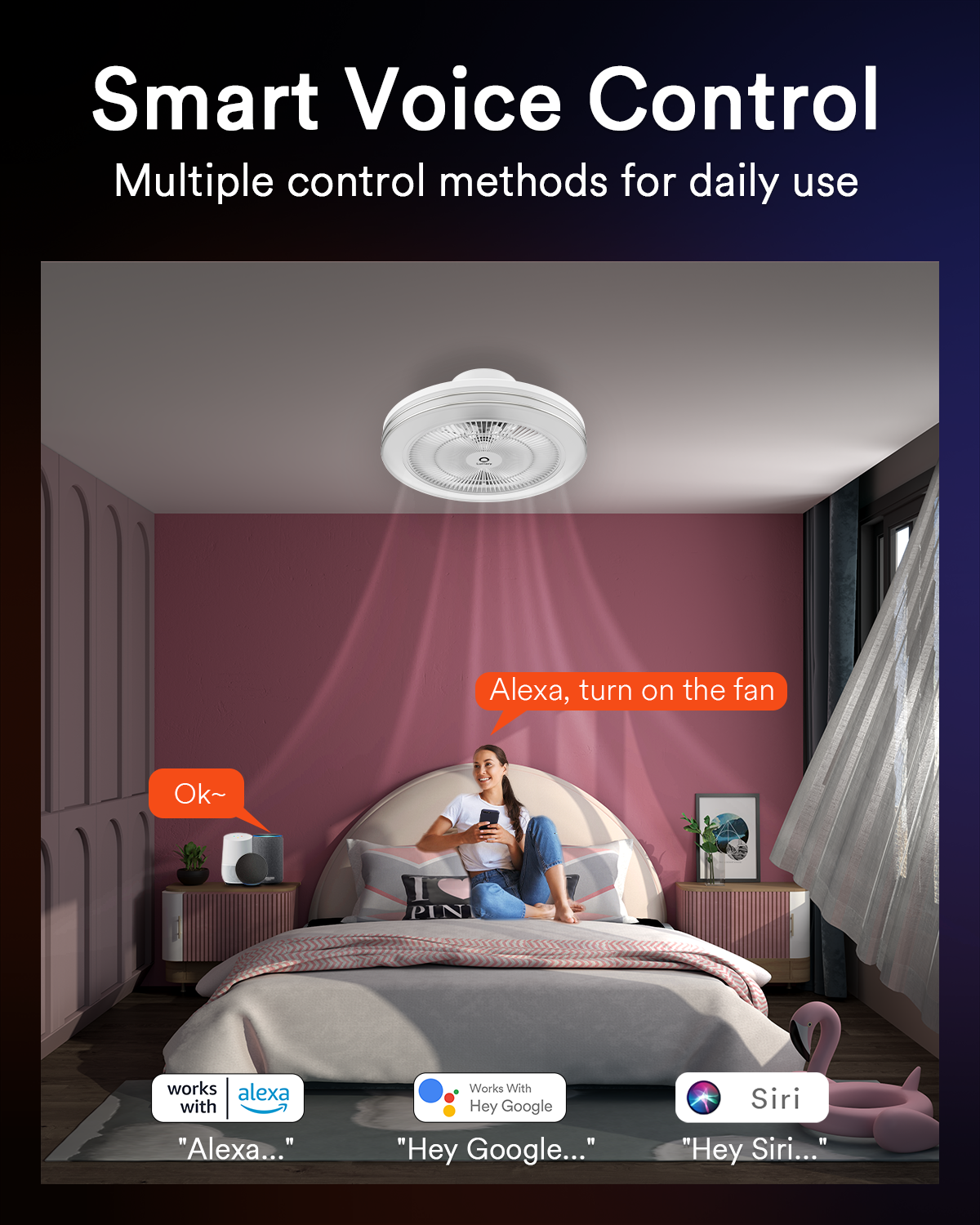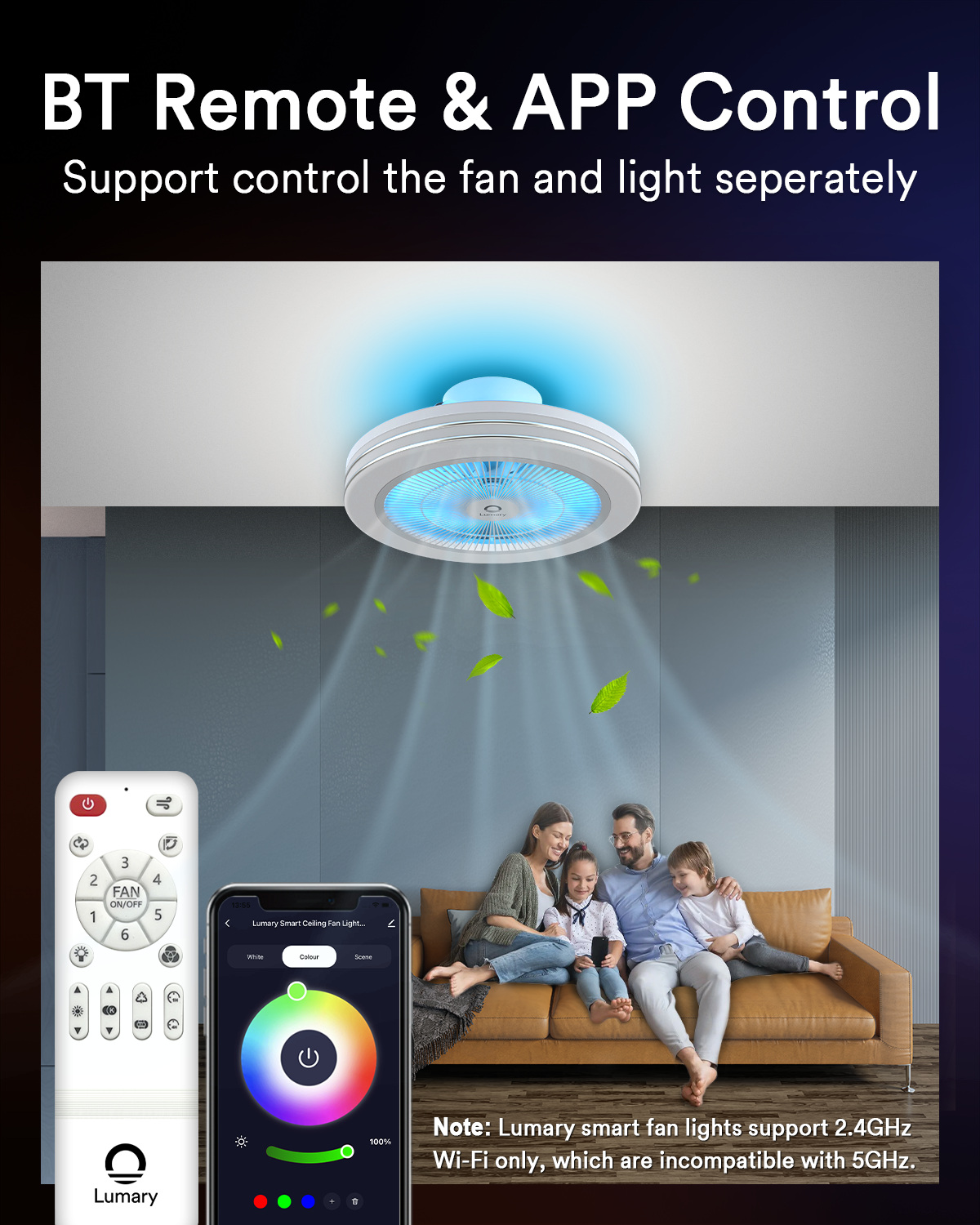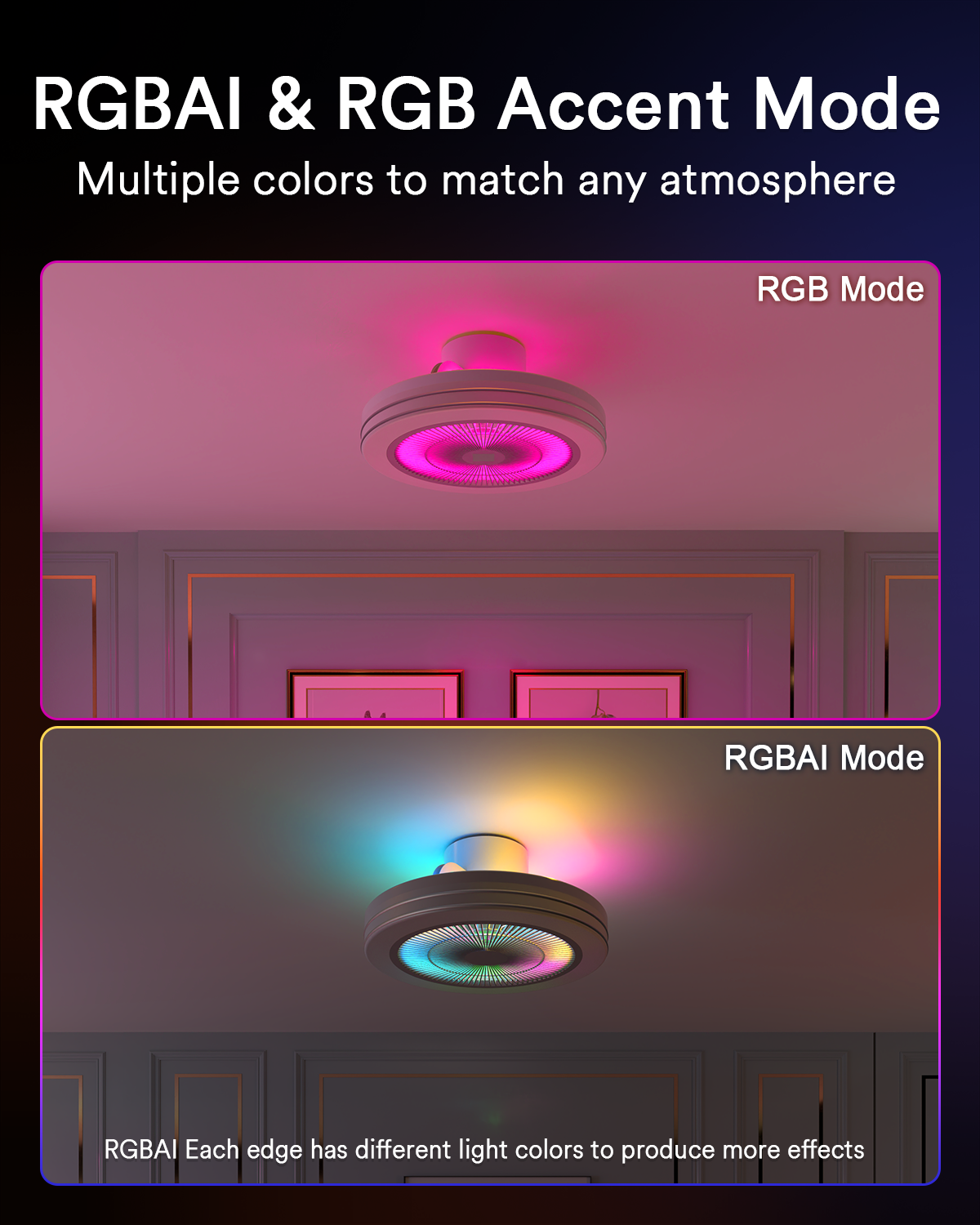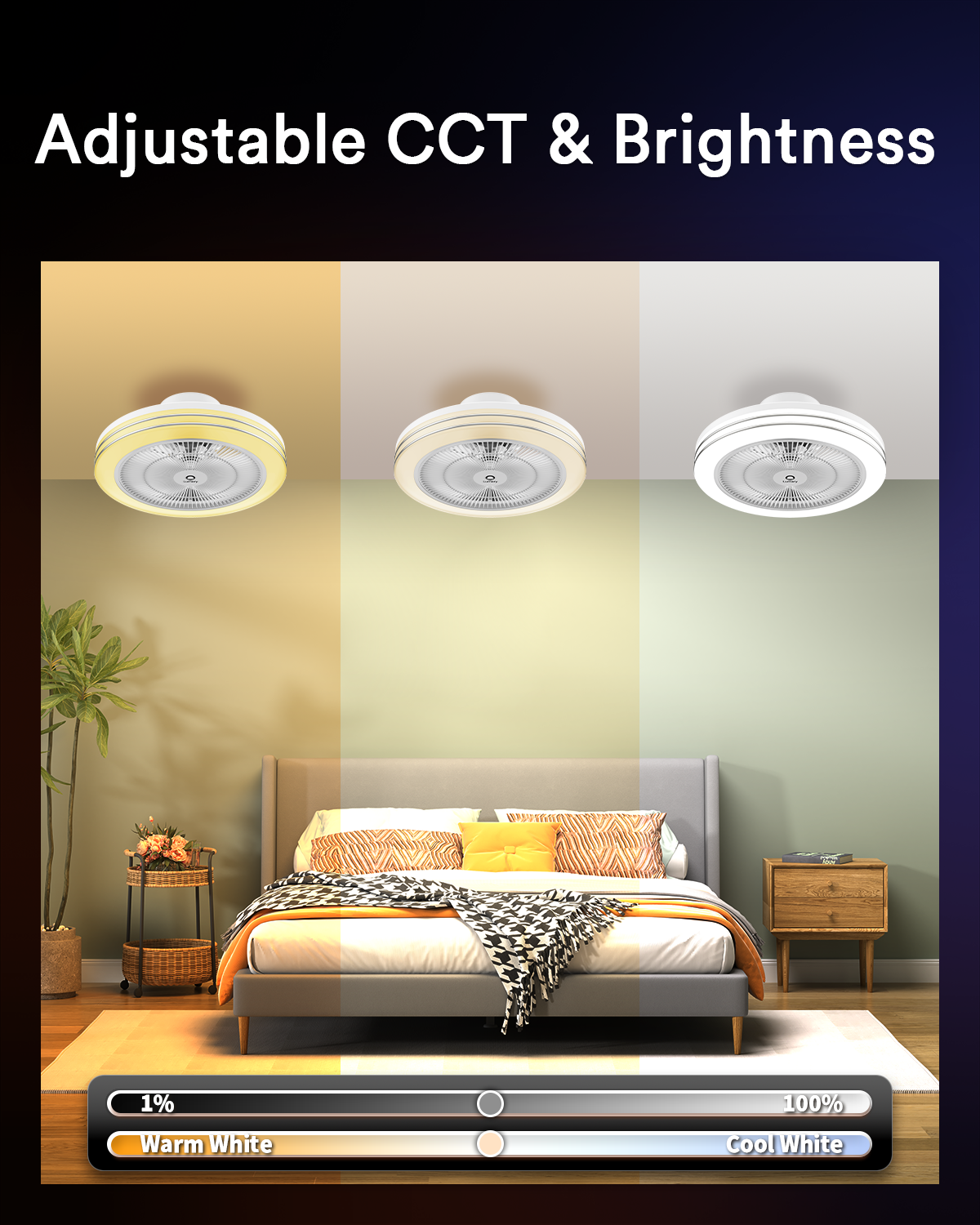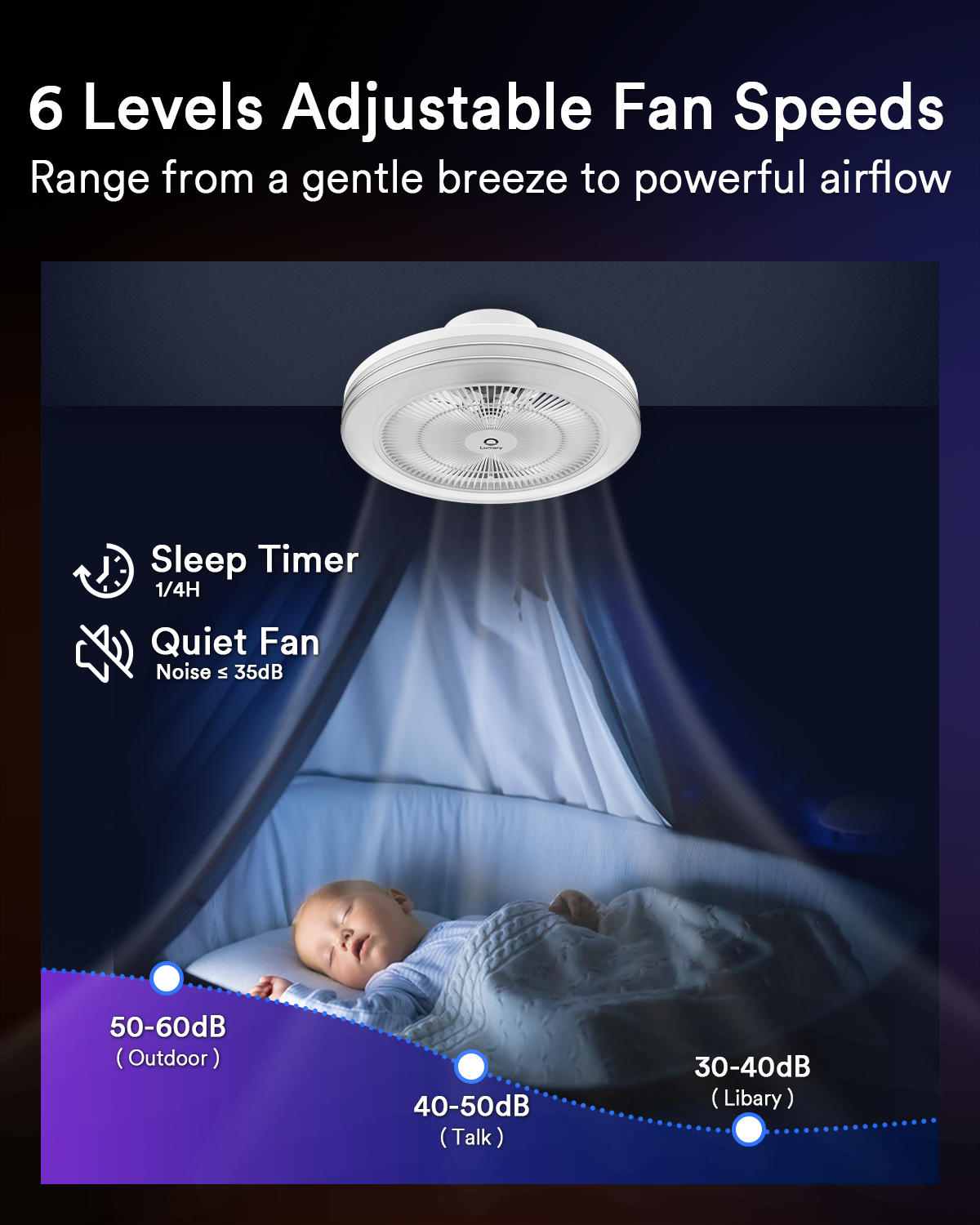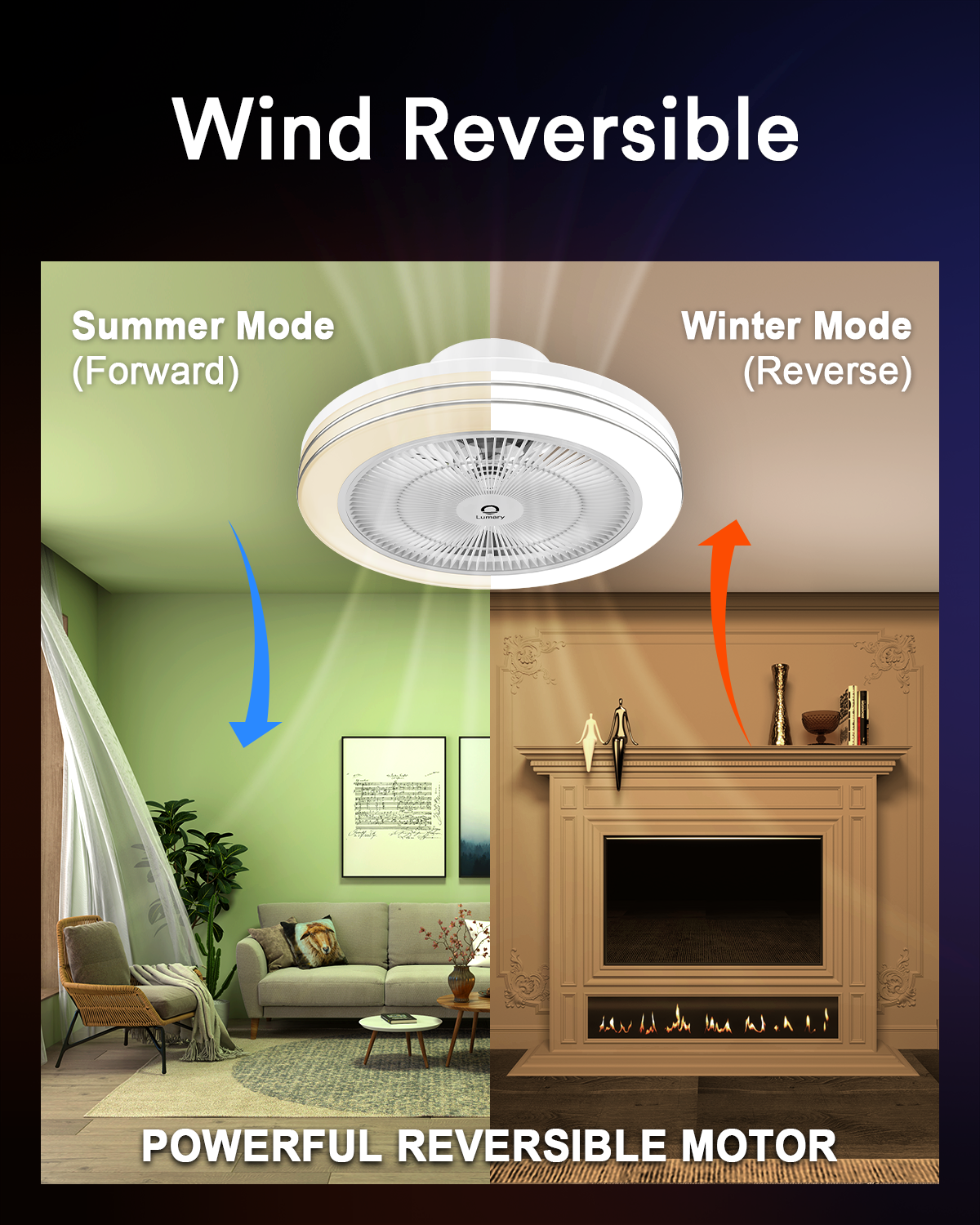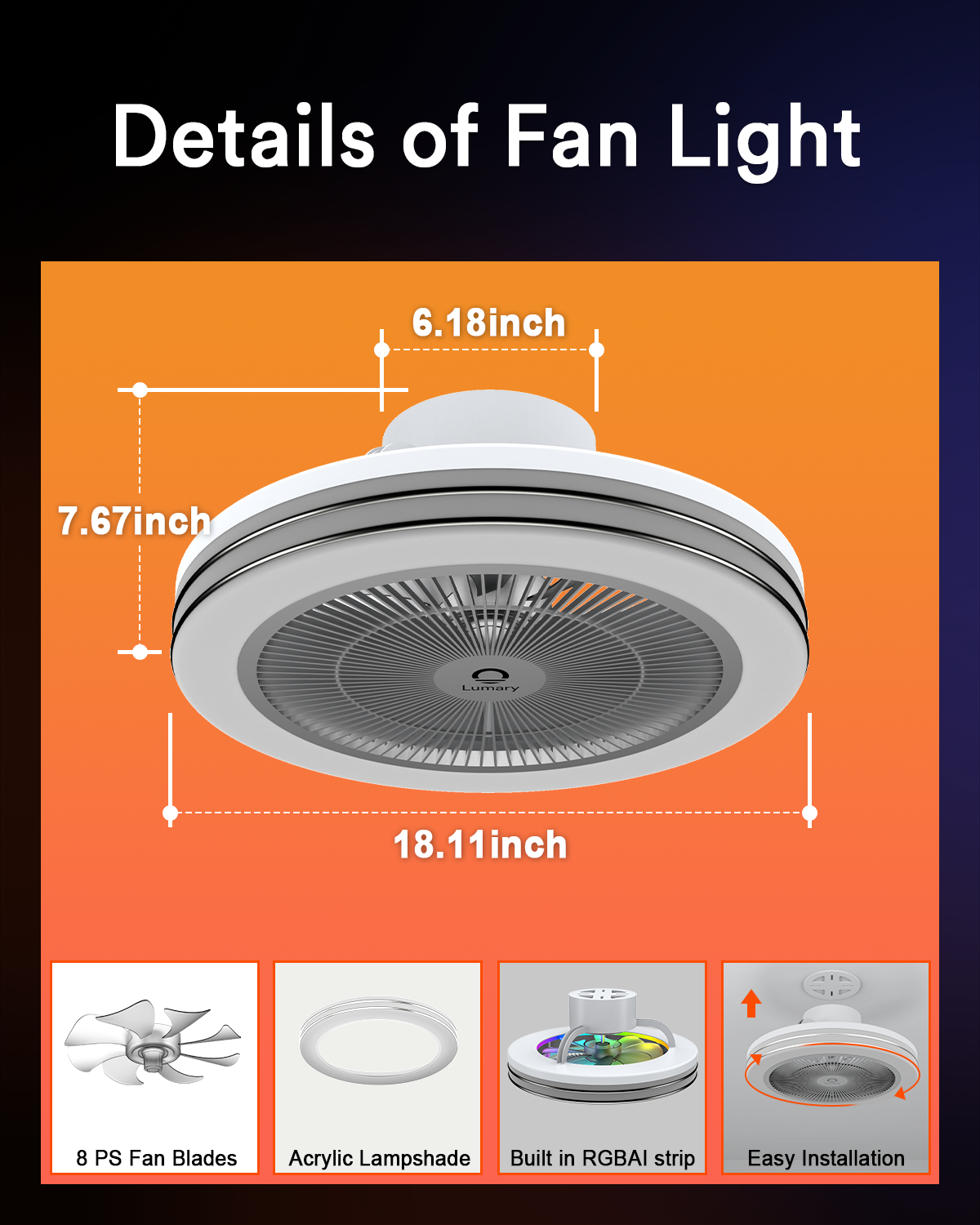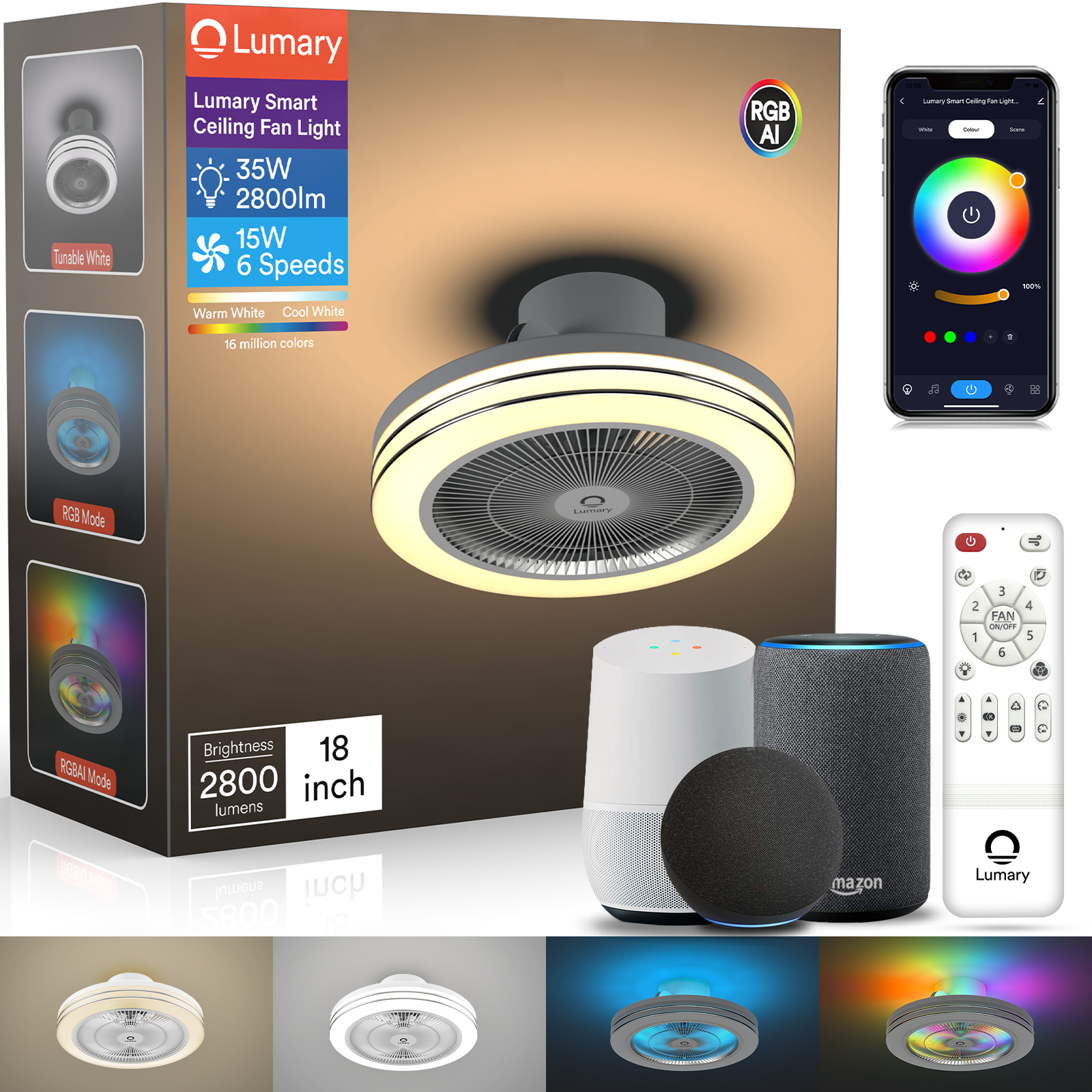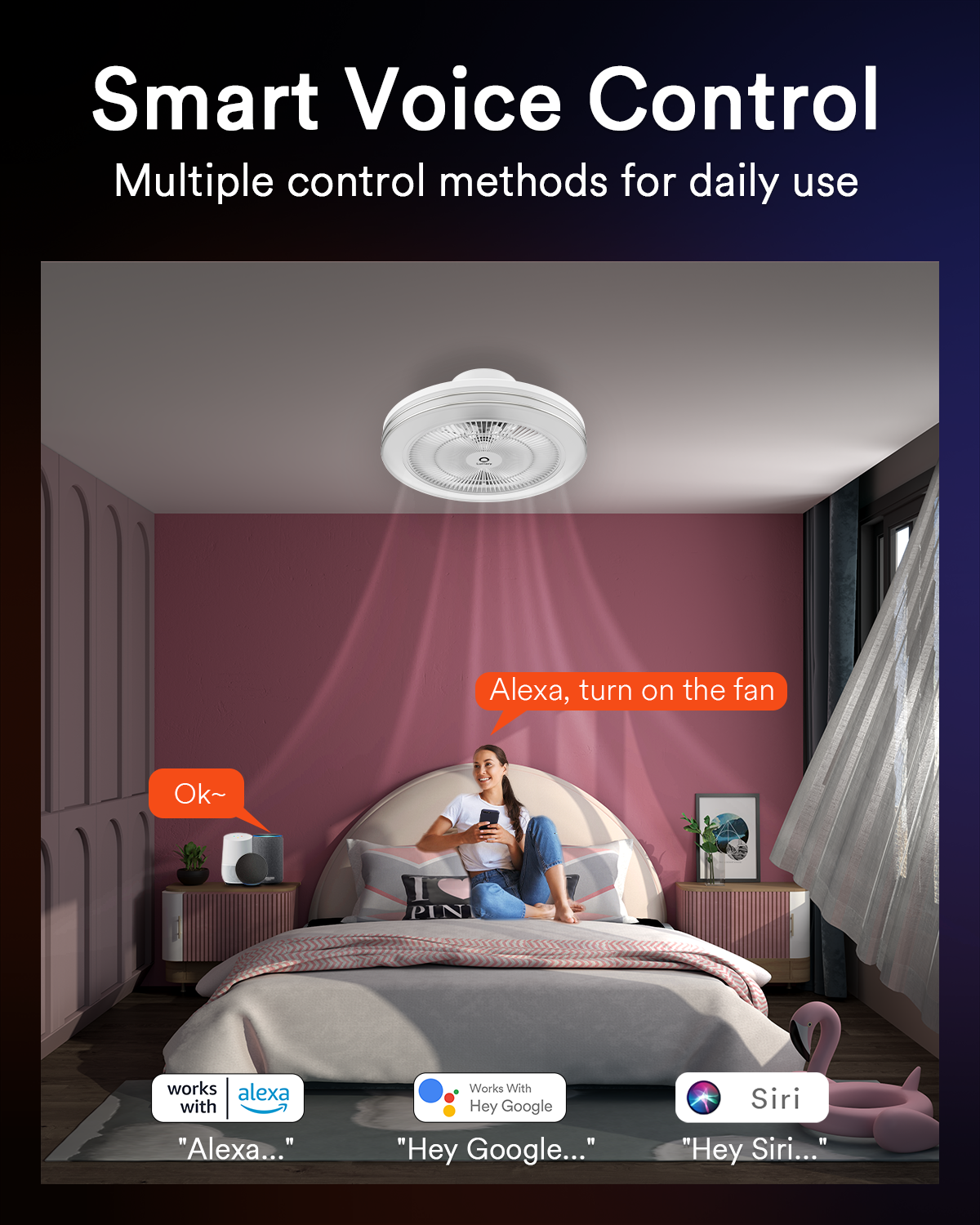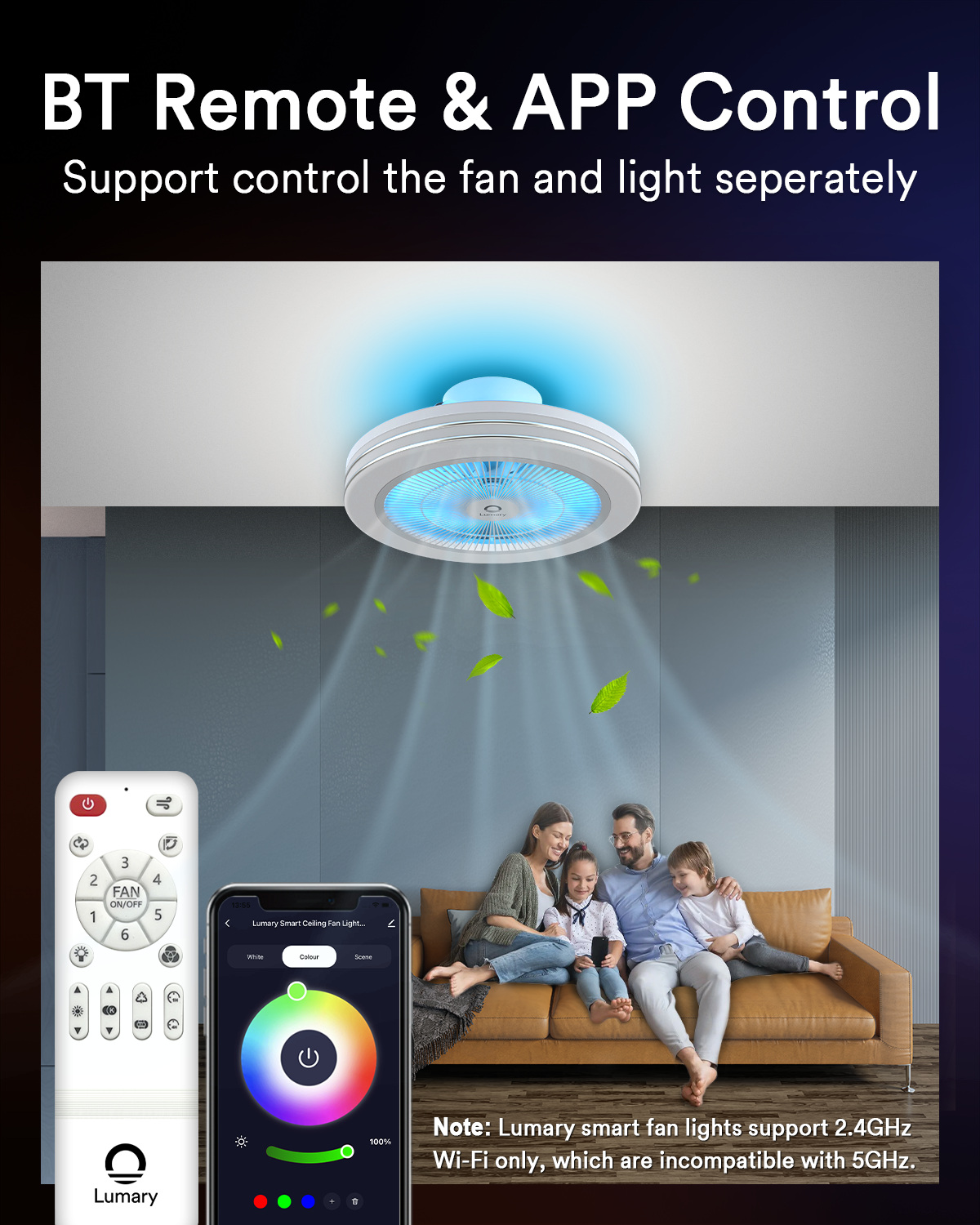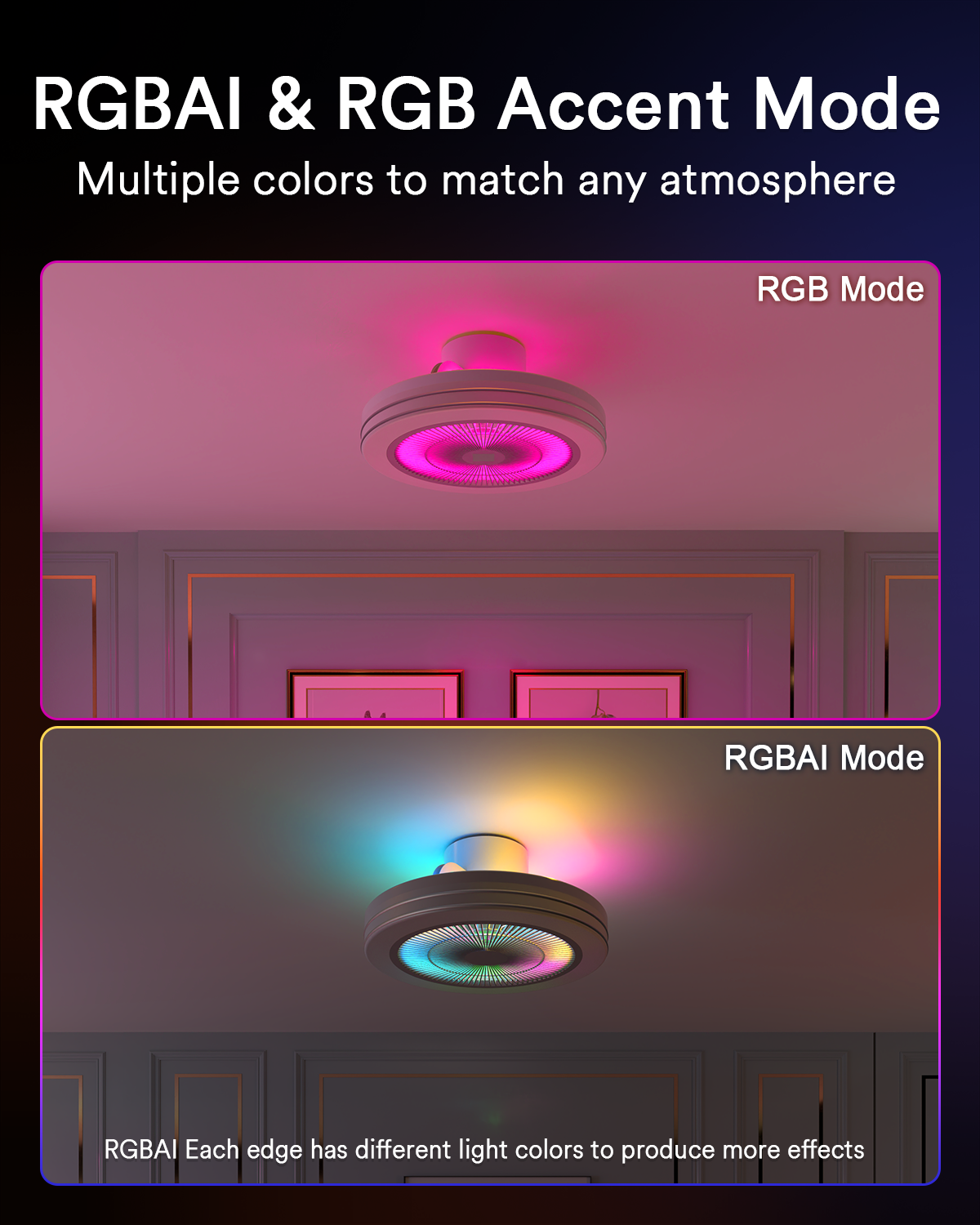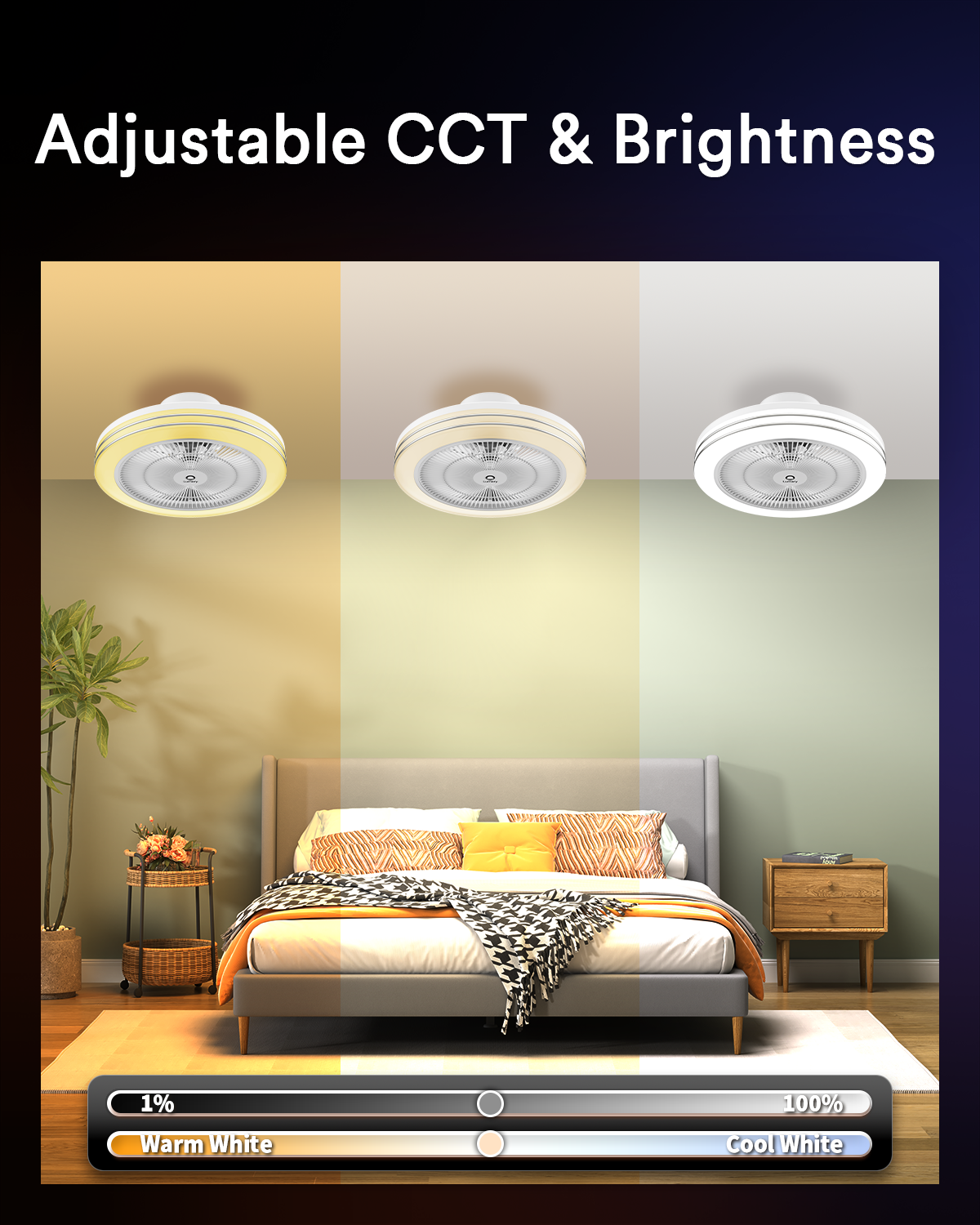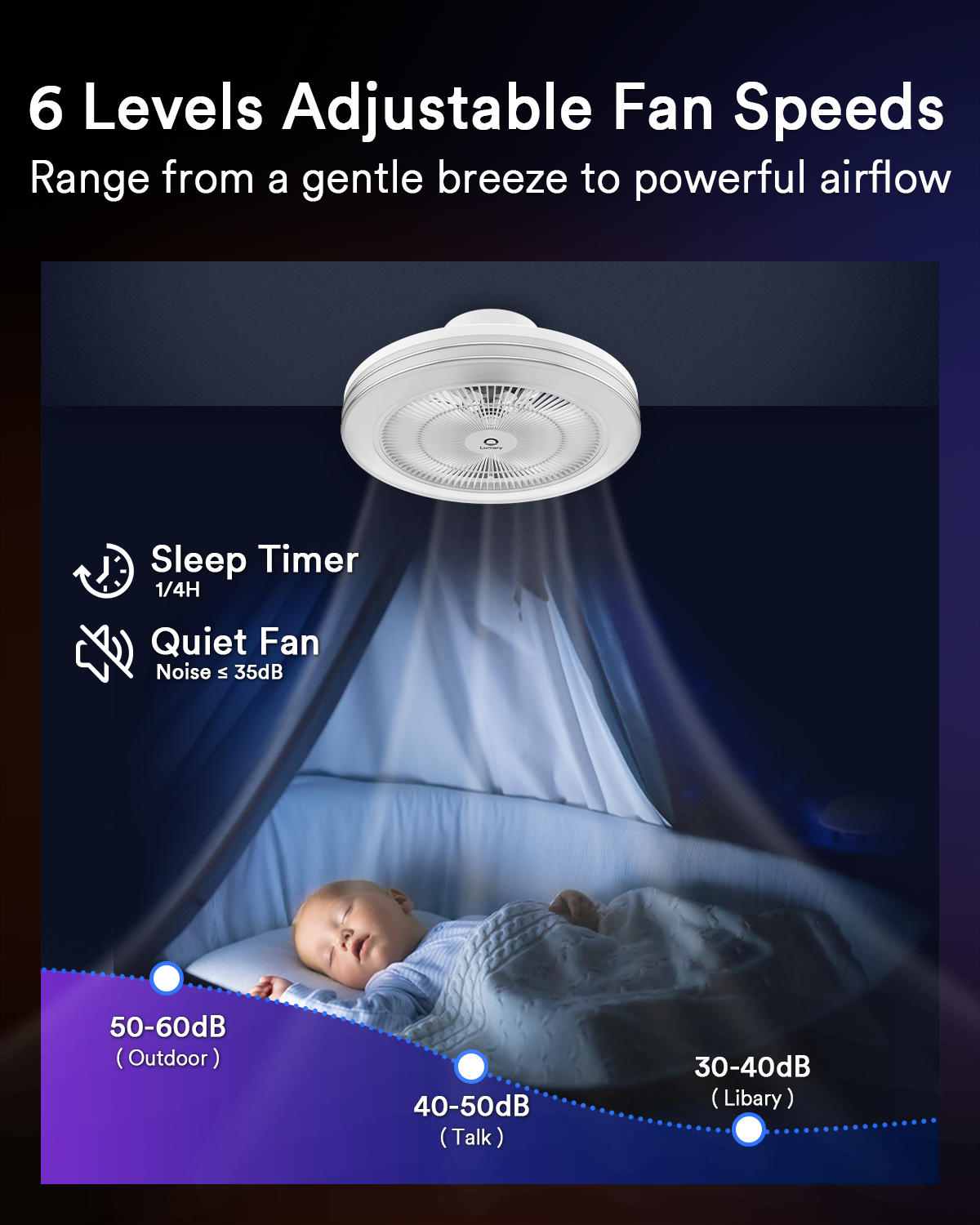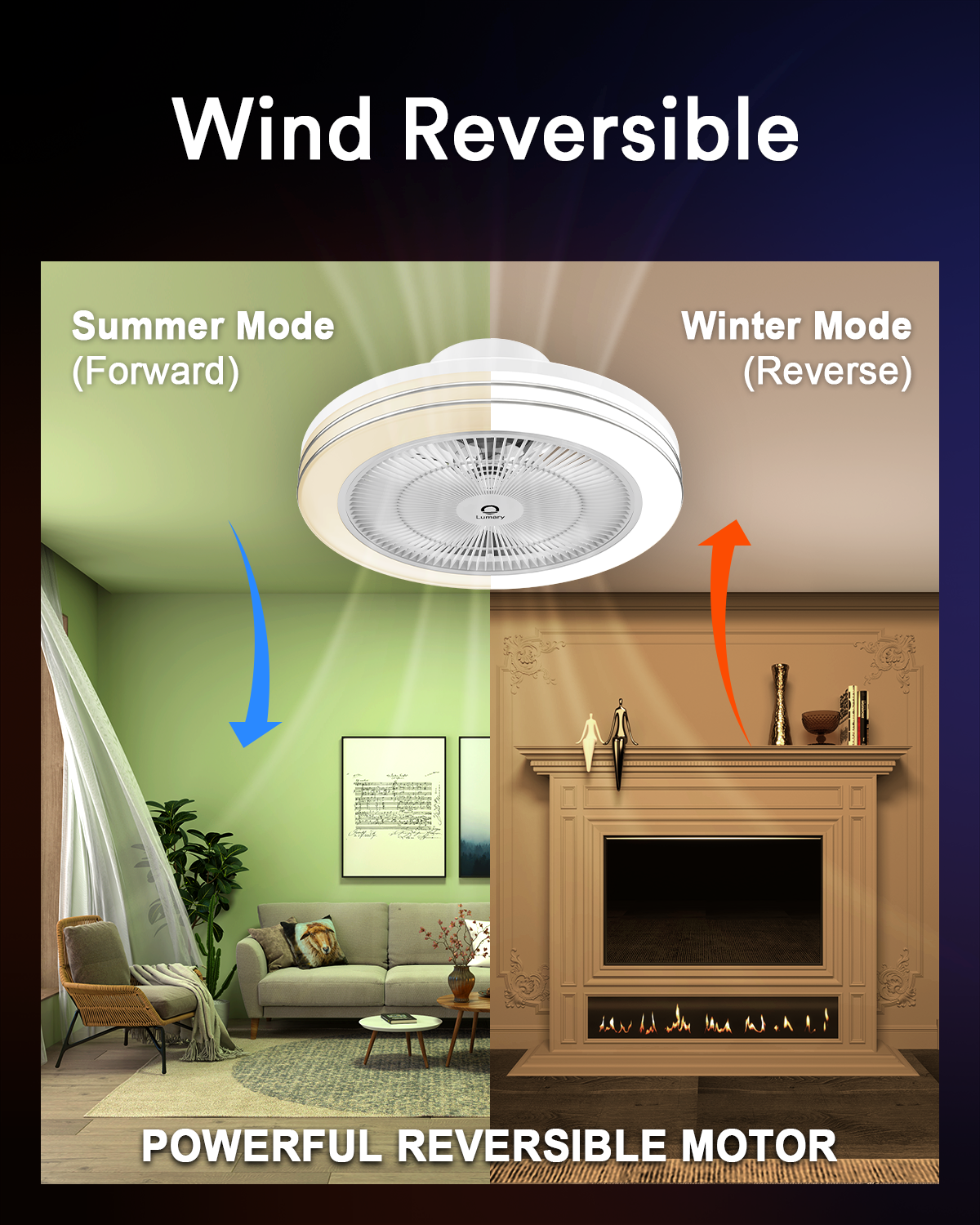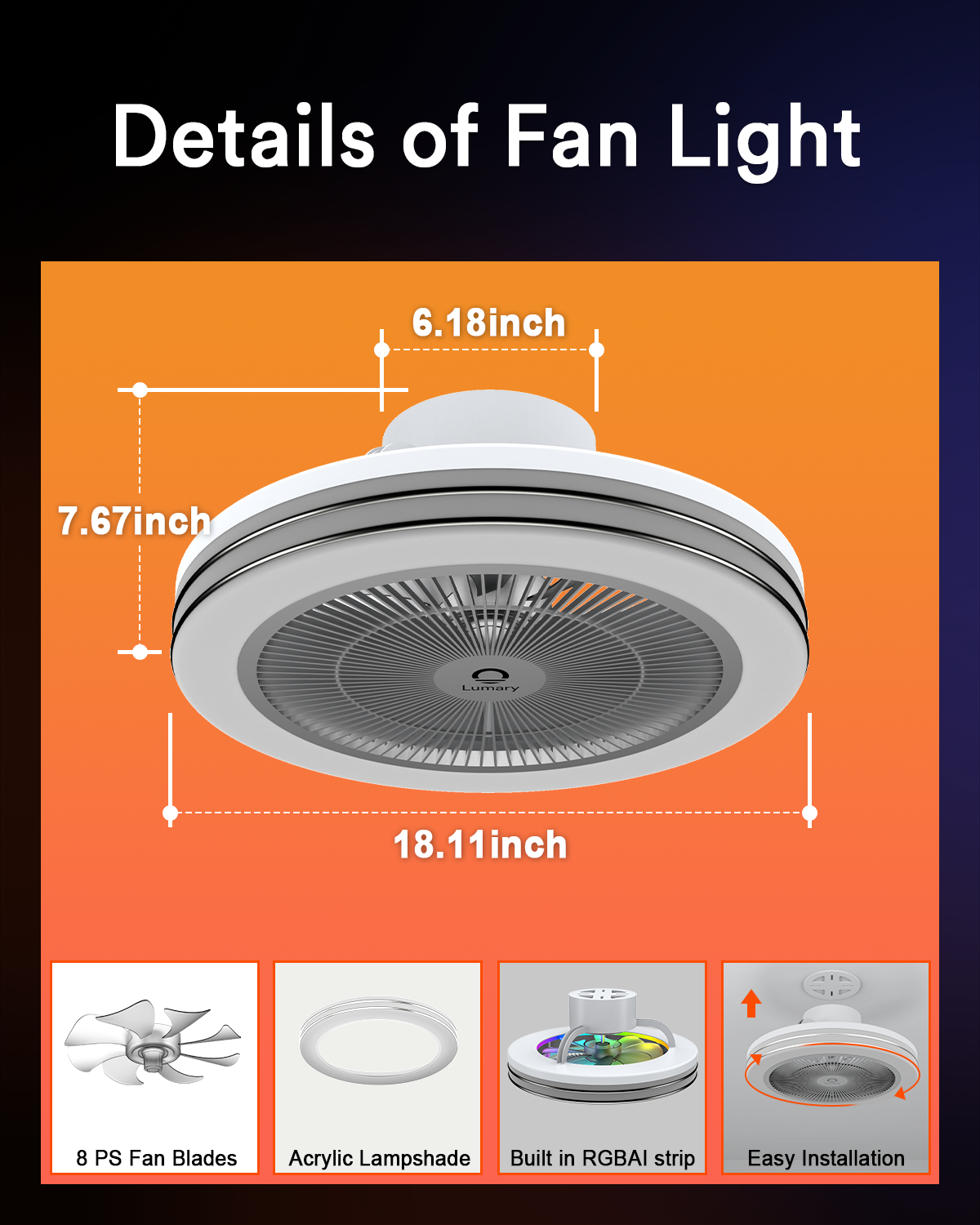 Lumary Smart RGBAI Ceiling Fan Light
Code: LF40
2 In 1 Design
RGBAl Technology
380 Dynamic RGBAI Effects
Wind Reversible
Timing Memory Function
QUANTITY
Lumary Smart RGBAI Ceiling Fan Lights
New 2-in-1 design incorporating the latest Lumary RGBAI technology
Lumary Smart RGBAI Ceiling Fan Lights
New 2-in-1 design incorporating the latest Lumary RGBAI technology
Multiple color modes to choose from
Multiple color modes to choose from
Multiple Control Modes
There is more than one way to control the Lumary 18-inch low profile ceiling fan with light including Lumary APP, Alexa, Google Assistant, Siri.
Multiple Control Modes
There is more than one way to control the Lumary 18-inch low profile ceiling fan with light including Lumary APP, Alexa, Google Assistant, Siri.
Suitable for all scenes at home
Blends perfectly into a variety of environments in your home, providing illumination along with a gentle breeze.
Suitable for all scenes at home
Blends perfectly into a variety of environments in your home, providing illumination along with a gentle breeze.
Better than expected!
Probably the best smart fan you can get right now. I researched for days before finally deciding on this. Nothing else seemed to come close to this in terms of quality and variety of lighting options. Works flawlessly with Alexa so don't even need to use the remote or the app unless I want to change up the lighting scene. Very happy with purchase. Easy to install for a beginner as well. Much more user friendly than a more traditional ceiling fan as far as installation goes. This being my first Lumary product im very impressed. Highly recommend. **Be aware that if your wifi network cannot support a 2.4ghz bandwidth the wifi functionality will not work. Meaning you cannot pair with Alexa or Google home or use the app.** If this is what you want you need to have a router/modem capable of not only 5ghz but also 2.4ghz, if not you will be stuck with only using the remote.. This is the only downside to this product. Maybe in the future they will upgrade them to work with 5ghz on a newer model. As for the fan itself although smaller than more traditional fans this things blows! Its perfect for any bedroom even a master bedroom. I would not recommend for any room larger than that though so definitely not for a living room unless you have a very small living room space it will not cover the entire room. I give it a 9 out of 10 only because no support for 5ghz which i can see being a problem for some people and possibly even more so in the future if 2.4ghz becomes completely obsolete. Having said that I don't think 2.4 is going away anytime soon as many products still only exclusively work on that network such as ring, nest, and blink products as well. All in all great smart fan and probably the best you can buy as of this review.
Lumary lights are awesome!!
Play Video
Totally endorse this company,
I have their outside permanent lighting on my house and their spot lights and they are amazing.
Great fan, light for the price
I like everything about this fan, easy to install, has an easy to use app. The fan spins in one direction for cold air and the other direction to warm the room up. Truly a marvelous invention. And it all connects with Alexa so makes it easy to control from the comfort of bed. Definitely recommend
Nice design and great utility
Its a value for money product. From the long time, I have been looking for this kind of product that has fan as well as ambient lighting and this product serves my purpose very well. Moreover, it is a smart product that can be controlled by voice or by my phone. Overall a great product. I recommend it.
Incredibly cool, and not just because it moves air well
I have a 3 season porch which has needed a fan and better lighting for ages - but the ceiling is low, so I have been reluctant to install a fan (not to mention there is no wiring for a fan). Fast forward to 2023 and WOW look what Lumary has made! An amazing smart light, with a nice fan, which installs quite easily. I had to have it.The fan is larger than I expected, which is great. It is lower profile than my previous light fixture. Installation was a little tricky due to the size and weight of the device - however after some sweat and a few choice words, I had it wired and firmly mounted to the J-box in the ceiling.Then I started reviewing the instructions, letter by letter. Surely there's more to install? Will this thing be that secure? The instructions indicated to install some machine screws, but there are no such holes. It also notes to secure to the ceiling, however there is no way to do so with the J-box install. I am not thrilled with this mounting, and it is not perfectly flush, which irks me a bit.Alas, I scratched my head and turned it on. The "white" light is absolutely outstanding. This would do great in any room - but is really a revelation in this porch. Followed up by the RGB lights, which add really impressive effects - though the app leaves much to be desired as far as what the effects are. And then we come to the fan - so far, it has proven to be very stable, without any wobbles. I love the fact that you can reverse directions on it and control its speed by remote, app, or Google. So, so cool.The app install was simple enough, though finding the device was a little confusing again as the instructions sort of imply that it works with Smarttthings, and can be found via Bluetooth. Neither of those seem true - but once I forced my network to 2.4Ghz, the app found the fan and everything connected nicely. Integration with Google went well, though finding the lighting in Google Home is a little confusing still. Its all there, but the lights appeared as part of a group vs individual components. Not a big deal, as voice and automation controls function just as I'd expect.The app has fantastic control over the fan and white light - and almost too much over the RGB lights. I'd love to see some updates so that it is a more visual experience, like Govee offers in their lighting - but I've found a few settings that I really like. And - I do not recommend using any "twinkle" settings, you might end up on the floor convulsing. There's nothing twinkly about the lights rapidly shutting on and off.A couple other features.. the app gives you power usage, which I have not quite dug into yet. Neat feature though. A really nice touch as well, is the ability to have it "remember" the settings in place after the fan powers off. Next time it comes on, you can have it start what it was doing before, or not - your choice.The music sync is a joke, but not something I cared about anyway. It needs your phone mic, as there is not one on the fan itself (which is fine by me!).Overall a fantastic piece of tech. I love smart devices.. and this is my favorite in recent memory.