Celebrating Our 6th Anniversary - Unveiling our Latest Innovation: RGBAI Technology!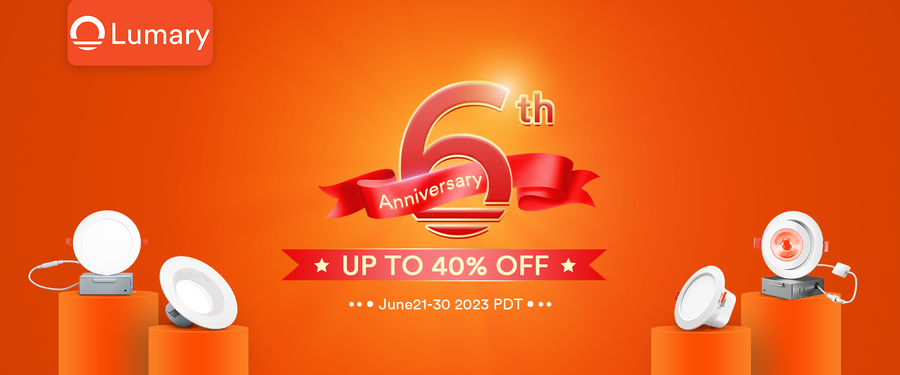 We are thrilled to announce the celebration of our 6th anniversary at our Intelligent Lighting Store! Over the years, we have strived to provide cutting-edge lighting solutions to our valued customers. This anniversary marks a significant milestone in our journey, and we couldn't be more excited to share our latest innovation with you: RGBAI Technology. In this blog post, we will delve into the details of this groundbreaking technology and also introduce our exclusive discounts and offers available during this special event.

At the forefront of innovation, we have developed RGBAI Technology, which stands for "RGB Adaptive Intelligence." This revolutionary technology allows our lighting fixtures to intelligently adapt their colors based on the surrounding environment. By seamlessly integrating with the ambient conditions, our lighting solutions create an immersive and personalized experience for you. Whether it's a cozy evening at home or a vibrant social gathering, our RGBAI-enabled lights will dynamically adjust their hues to complement the atmosphere, enhancing your space in ways you've never imagined before.
40% Off Anniversary Discount:
To commemorate our 6th anniversary, we are thrilled to offer our valued customers an incredible discount of up to 40% off on selected lighting products. This is an exclusive opportunity to transform your space with our state-of-the-art RGBAI Technology at a highly affordable price. Take advantage of this significant discount and explore the possibilities of intelligent lighting to create the perfect ambiance for every occasion.

Exciting Discounts on Selected Products:
In addition to the 40% off offer, we are delighted to present three different tiered discounts based on the total purchase amount. These discounts are designed to provide you with even more savings:

10% off on purchases over $399: For those who are looking to enhance a smaller space or require individual lighting solutions, this discount offers a great opportunity to save while experiencing the benefits of RGBAI Technology.

15% off on purchases over $699: If you have a larger area to illuminate or want to create a multi-room lighting setup, this discount allows you to enjoy increased savings on your purchase.

20% off on purchases over $999: For those seeking to revamp their entire space or incorporate intelligent lighting in multiple areas, this discount offers the highest level of savings, enabling you to maximize the potential of RGBAI Technology.

As we celebrate our 6th anniversary, we are proud to introduce our groundbreaking RGBAI Technology, which will revolutionize the way you perceive lighting. Experience the power of adaptive intelligence as our lights dynamically change colors to suit your environment. To make this innovation even more accessible, we are offering a remarkable 40% off on selected products, along with tiered discounts based on your total purchase amount.

Visit our Intelligent Lighting Store during this anniversary celebration and witness firsthand the transformative capabilities of RGBAI Technology. Don't miss this opportunity to create a truly immersive and personalized lighting experience at unbeatable prices. Join us in celebrating our journey and the future of intelligent lighting!
---