How to choose the smart outdoor light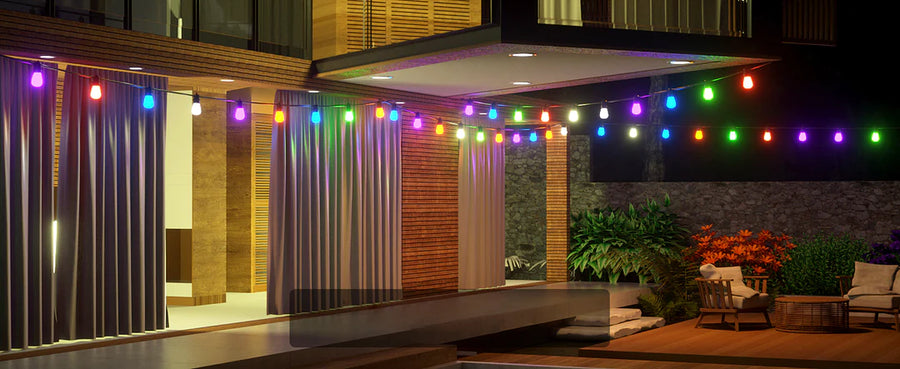 Lamps are an integral part of our lives.In the beginning, we used lamps to dispel the darkness, but now we use them more to decorate our homes, create a living atmosphere, and meet our spiritual needs.Smart home is a very good choice for modern families. The development of science and technology makes people pursue high efficiency and convenience. Compared with traditional homes, smart homes can be more convenient, efficient, safe, and easy to use.Now there are a lot of outdoor smart lamps on the market, so how should we choose? I will introduce you to the selection of outdoor products.
Lumary RGBAI Wi-Fi & Bluetooth Outdoor Bulb String
The first i want to suggest that is the Lumary RGBAI Wi-Fi & Bluetooth Outdoor Bulb String Lights.I swear it must be one of the best product i have ever seen.If your garden is big enough and has a dining table.I would highly recommend you this product.This product is perfect for outdoor garden dinners or festive dressing, it can give you an extraordinary experience.Its wire wrap is thicker than other products, which means it's more durable and lasts longer, and the way it hangs the bulb is different, it uses a three-wire splice that allows the wire to withstand smaller bulbs Weight, and more importantly, it has an IP65 rating, it can be effectively waterproof and dustproof, so you don't have to worry about it even in some bad situations. These are just his quality assurance, what makes it even better is its smart features.It has three methods for you to choose.There are app control, voice control and switch control.It help you say goodbye to the traditional control method, and free your hands.Each bulb can be controlled independently,which mean you can make one of bulb turn on or off,and change one of its color.More importantly, when you break one of them carelessly,it won't effect other bulbs.You just need to replace the broken bulb.You can diy the scene you want with different color and dimmable.It also has a music rhythm function,the light cans dance to the rhythm of the music,that's a really awesome function.
Lumary Smart LED Outdoor Landscape Lights RGBAI Outdoor Spotlight
If you don't have enough garden space, but you want to create a different garden, then this product must be suitable for you.It has an extremely simple installation method.You just need to put it where you want it, plug it in and it will work.Its wire wrap is thicker and has an IP65 rating.You don't need to worry to use it outdoors for a long time.It can also provides 16 million RGB colors to switch. In parallel connection design, the color of each light can be individually controlled via the APP, not only that but the brightness can also be controlled.Its light angle makes it very expressive, you can use it for your garden grass, wall washing or night party.It only takes a low price to diversify your home.
Comparing to the string lights,It is more compact and convenient, the price is cheaper, and the practical range is stronger, but correspondingly, its functions are relatively reduced.
Lumary WiFi Smart Dual Antenna LED Floodlight
This is the last product I recommend.Floodlights should be a lamp that can be applied to every home.So that's why I'm putting it in the last intro.The first is its easy installation, it comes with adjustable stand and Lumary outdoor spotlight with 1.2 m long cable, no wiring required, just plug it in. With just metal brackets and 2 pre-drilled holes, you can firmly fix the spotlight on the wall, ceiling or floor, and it can also rotate 150°with a flexible angle to suit your needs.It has a higher degree of protection IP66 than the first two products.It can work below -25°C ~ 40°C and withstand bad weather conditions such as heavy rain and snow. The floodlight can be used for all outdoor environments such as gardens, garages, porches, patios, trees, and swimming pools.It has two aerials upgraded design,which can strength your signal to make the connection more stable.It also has app control, music control and music synchronization functions to make your operations more intelligent.It has 16 million colors and 38 scene modes to choose from, it also supports DIY scene modes, perfect for interior lighting and mood lighting for Halloween, Christmas, parties, birthdays, weddings, and more.It can adapt to various environments and has a very high cost performance, you can use it everywhere.It will definitely be your best choice.
In summary,These three products are the best of their kind on the market.If you have difficulty choosing outdoor lights,you can consider my recommendation.I sincerely hope it will be helpful for you.
---