Illuminating Your Pathway with Lumary RGBAI Smart WiFi Pathway Lights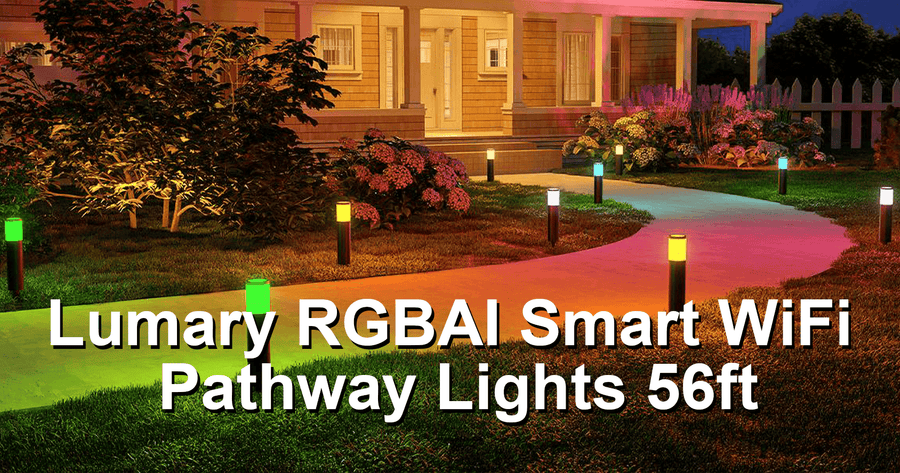 In today's world, where smart technology continues to revolutionize our daily lives, Lumary presents an innovative solution to enhance the aesthetics and functionality of your outdoor spaces. The Lumary RGBAI Smart WiFi Pathway Lights are designed to bring a new level of illumination, convenience, and versatility to your pathways. In this blog post, we will explore the key features of these lights, their diverse applications, and the exciting discounts available.
Key Features:
RGBAI Technology: The Lumary RGBAI Smart WiFi Pathway Lights utilize advanced RGBAI (Red, Green, Blue, Amber, and Infrared) technology. This cutting-edge feature allows for an expanded color spectrum and precise color control, providing a vibrant and dynamic lighting experience. Whether you desire a warm, inviting ambiance or a lively, colorful display, these lights can adapt to your preferences with ease.

Smart WiFi Connectivity: With built-in WiFi capabilities, these pathway lights can seamlessly integrate into your smart home ecosystem. Through the dedicated mobile app, you can control the lights remotely, adjust colors and brightness levels, and even schedule lighting scenes to create customized moods for different occasions. The convenience of controlling your pathway lights with just a few taps on your smartphone enhances both comfort and security.

Pathway Guidance: The primary function of Lumary RGBAI Smart WiFi Pathway Lights is to illuminate your pathways, ensuring safe navigation during the dark hours. The evenly distributed lighting not only enhances visibility but also adds a touch of elegance to your outdoor spaces. These lights are designed to withstand various weather conditions, making them ideal for illuminating walkways, driveways, gardens, or any outdoor areas requiring guidance.

Versatile Lighting Effects: Thanks to the RGBAI technology, Lumary RGBAI Smart WiFi Pathway Lights offer a myriad of lighting effects. From steady colors to pulsating patterns, you have the freedom to create captivating displays for special events, parties, or simply to showcase your creativity. The lights can be synchronized with music, adding a dynamic element to your outdoor entertainment.
Usage Scenarios:
Home Gardens: Enhance the beauty of your garden during the evenings and create a welcoming atmosphere for outdoor gatherings.

Pathway Safety: Ensure the safety of your family and guests by illuminating walkways and driveways, preventing accidental trips or falls.

Festive Decorations: Bring festive vibes to your home by using the lights to create dazzling displays during holidays and celebrations.

Outdoor Entertainment: Host unforgettable outdoor parties by transforming your backyard into a mesmerizing space with vibrant lighting effects that synchronize with your favorite tunes.
Discount Information: Currently, Lumary is offering an exclusive discount on the Lumary RGBAI Smart WiFi Pathway Lights. By using the code "PL30" at checkout, you can avail a $30 discount on your purchase. Take advantage of this limited-time offer to upgrade your outdoor lighting and elevate your living experience.
Conclusion: The Lumary RGBAI Smart WiFi Pathway Lights combine state-of-the-art technology, convenience, and versatility to illuminate your outdoor spaces with stunning effects. Whether you seek a tranquil ambiance or an exciting display, these lights provide endless possibilities. Don't miss the opportunity to enhance your pathways' aesthetics, safety, and functionality while enjoying the exclusive discount. Embrace the power of RGBAI technology and transform your outdoor spaces today!
Note: The content provided is based on the information available at the given link as of September 2021. Prices, discounts, and product details may vary, and it is recommended to visit the official Lumary website for the most up-to-date information.
---