Lumary's Spooky Halloween Buying Guide 2022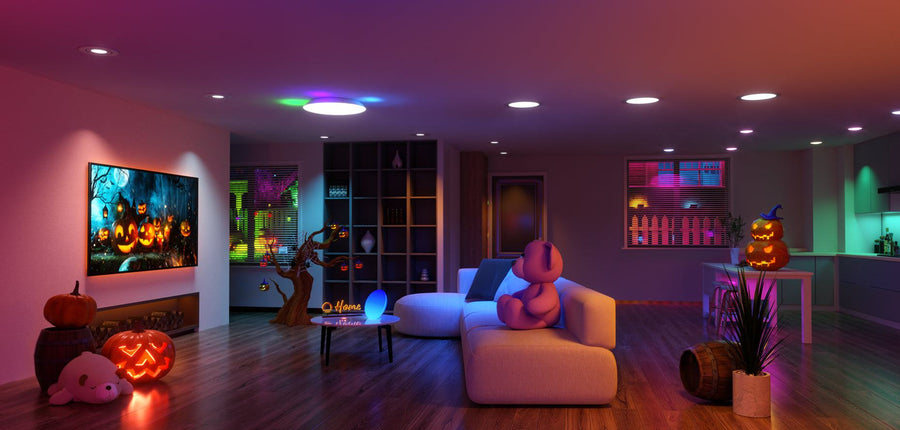 It's that time of year when Halloween is the most anticipated and fun time of the year, and to fit in with all the Halloween spirit, you should be preparing all kinds of colorful decorations to decorate yourself and your room to celebrate the spookiest and scariest season of the year. Lumary has a wide range of indoor smart lighting as well as outdoor lighting that will further add to the festive atmosphere of your Halloween. Don't worry about anything, Lumary will provide you with great quality smart lighting with low prices, easy installation and use, and no worries about returns and refunds.

Experience an immersive indoor atmosphere
The Lumary has up to 32 scene modes and supports scenes DIY for your Halloween special or party atmosphere. It definitely makes you howl. according to the music sync function, when you respond to the color of the surrounding lights or the surrounding spooky sound, the lights will changed in sync, with Lumary, your Halloween will no longer feel bored. Make your Halloween decorations look even spookier with products such as recessed lights, floodlight and Landscape light.
Our recommendations for Halloween
Lumary Smart 6 inch Ultra slim Recessed Lighings 24 pcs
https://lumarysmart.com/products/lumary-smart-canless-recessed-lighting-6-inch-24pcs


Lumary Smart 4 inch 9W Gimbal Recessed Light 12 pcs
https://lumarysmart.com/products/lumary-wifi-smart-gimbal-recessed-light-4-inch-9w-12pcs


Lumary Smart 6 inch Ultra slim Recessed Lighings 8 pcs - Black
https://lumarysmart.com/products/lumary-wifi-smart-ultra-thin-recessed-lighting-black-4-inch-8pcs
Outdoor scares are just as exciting
As the night approaches and you get ready for the spookiest night of the year to begin, many children will begin to come to your door asking for candy in delightful and hilarious costumes and pumpkin baskets in their hands, Lumary's outdoor light series can customize your outdoor party to make it easier on your eyes, with Lumary's outdoor light collection, you can take advantage of features such as group control, music mode DIY mode, and much more without lifting a finger.

Our RGBAICW smart string lights and RGBIC outdoor landscape lights will give your backyard a lighting atmosphere that sets the Halloween mood. We believe your family as well as friends will be blown away by your house full of strong atmosphere.
Still worried about the lights not working properly on Halloween due to rain? These factors we have taken into account in advance, all of our outdoor series have IP65 level waterproof reins, allowing your lights to work properly in gloomy weather without being affected, even in the rustling wind and strong rainstorm. With Lumary, you are also able to use with confidence. No matter what the weather conditions are, we are able to keep the line up on track.
What We Recommend
Lumary Dual Antenna Smart Floodlight
https://lumarysmart.com/products/lumary-wifi-smart-dual-antenna-led-floodlight-2-pack

Lumary RGBAICW LED String Lights - 56FT
https://lumarysmart.com/products/lumary-rgbai-wi-fi-bluetooth-outdoor-bulb-string-lights-56ft-2-pack

Lumary Smart Outdoor Landscape Lightshttps://lumarysmart.com/products/lumary-smart-led-outdoor-landscape-lights-rgbai-outdoor-spotlight-2-pack
---