Lumary Smart RGBAI Ceiling Fan Light: Your Ultimate Home Upgrade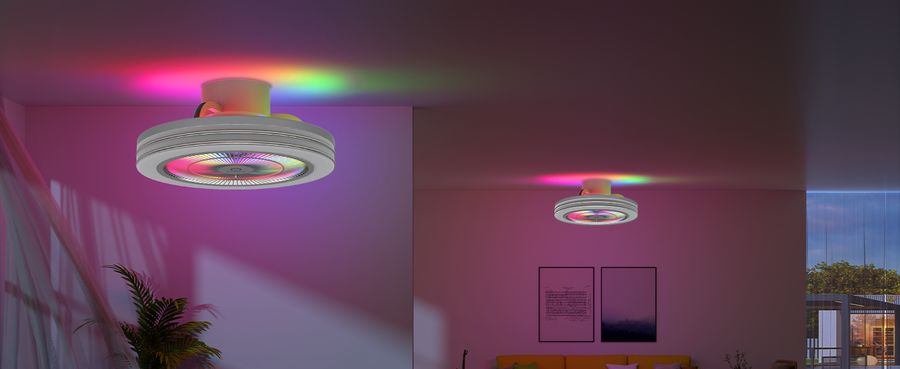 In the dynamic world of smart home innovation, the Lumary Smart RGBAI Ceiling Fan Light stands out as a revolutionary new product to brighten up your living space. The product's cutting-edge features are a perfect fit for the lifestyles and weather patterns of American consumers, redefining comfort, beauty and functionality in the home.

The Lumary Smart RGBAI ceiling fan light utilizes state-of-the-art RGBAI technology to harmonize with its surroundings. Its clever combination of red, green, blue and amber LEDs ensures that the lighting aligns with the time of day and local weather conditions. Whether you're in the middle of a cold night or a hot summer day, the ceiling fan light's dynamic illumination transforms your space accordingly.

A product that combines efficiency with elegance, the Lumary Smart RGBAI Ceiling Fan Light seamlessly integrates energy-efficient LEDs. you have the flexibility to set the ideal brightness and color temperature to enhance the ambiance of your home while lowering energy and utility costs.

Embrace the future of control with the Lumary app. This innovative solution makes it easy to manage your lighting, fan speed and color preferences. Whether you're reading a book or preparing a meal, the app's intuitive interface lets you create the ideal atmosphere.

Voice-activated technology has become an integral part of modern life.The Lumary Smart RGBAI Ceiling Fan Light syncs seamlessly with popular smart assistants like Amazon Alexa and Google Assistant. With simple voice commands, you can adjust lights, colors, and fan speeds to increase convenience and efficiency in your daily life.

One of the most appealing features is the weather-responsive mode. This ceiling fan light intelligently synchronizes its lighting with local weather conditions, allowing you to experience the outdoors from the comfort of your home. Imagine your space surrounded by the serene blues of rain or the vibrant yellows of sunshine with the smart adjustments of your ceiling fan light.

From a quiet evening to a lively party, the Lumary Intelligent RGBAI Ceiling Fan Light can fulfill a variety of scenarios. Imagine lounging under the comforting warmth of light after a busy day, or hosting an event on an energetic game night where the pulsating colors complement the passion in the room. It's a versatile product that adapts to your life, allowing for greater relaxation, productivity and social interaction.

Simply put, the Lumary Smart RGBAI Ceiling Fan Light goes beyond traditional lighting solutions. By blending technology, aesthetics, and utility, Lumary has created a product that fits the preferences and habits of the American consumer. As an industry veteran, you know the impact that smart lighting can have on the comfort of your home, and the Lumary Smart RGBAI Ceiling Fan Light is your gateway to a whole new living space. Experience the future of home lighting today.
---