Lumary's 6th Anniversary Celebration - Exciting Discounts and Promotions!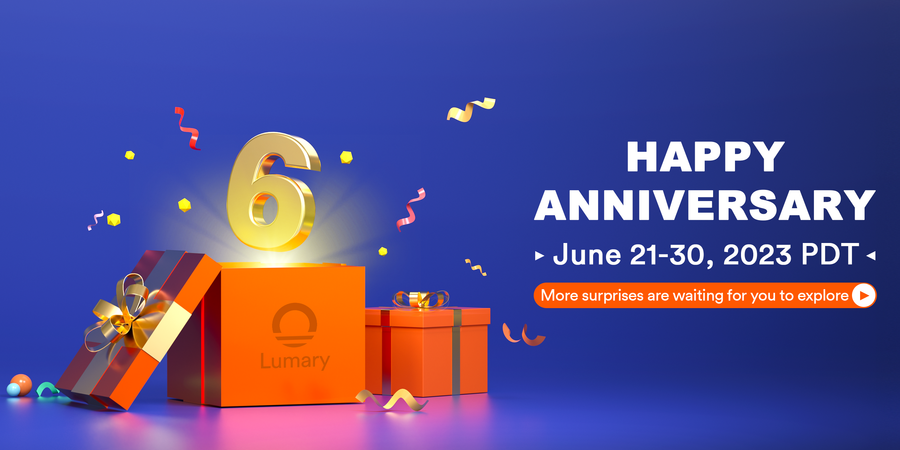 Lumary brand is about to celebrate its grand 6th anniversary! We would like to express our sincere gratitude for your long-term support and love for Lumary. The 6th Anniversary Celebration promotion will take place from June 21st to June 30th, offering the lowest prices ever and providing you with incredible discounts. Click the link below to directly visit the official Lumary website and start browsing your favorite products!
Here is a list of discounted products, and the specific promotion will be launched on the 21st, so please stay tuned to the Lumary official website:

Lumary Smart RGBAI Recessed Lights: Lumary's revolutionary RGBAI lighting technology allows smooth color transitions, and the ultra-thin design fits seamlessly into most homes. With App and voice control, it provides the utmost convenience to users. (Note: Up and down illumination, but not simultaneous illumination)
Lumary Smart Ourdoor RGBAI Pathway Lights: Lumary's first outdoor smart path light equipped with RGBAI lighting technology, specially designed for households with a garden. An upgraded version of the RGBAI outdoor plug-in light, it offers higher power, brightness, larger size, enhanced waterproofing, superior materials, more color options, and DIY customization. The increased length between lights ensures a perfect user experience.
Lumary Smart RGBAI Landscape Lights: Lumary's best-selling outdoor lighting featuring RGBAI technology, with its compact size and affordable price surpassing similar products in the market in terms of quality and user experience. It can be inserted into the ground or hung on tree branches or eaves thanks to adjustable lighting angles.
Lumary Smart RGBAI String Lights: Lumary's first smart light string featuring RGBAI lighting technology. This product sets the foundation for Lumary's RGBAI lighting technology, offering superior quality, higher bulb brightness, various customizable lighting scenes, and becoming the top choice for all outdoor parties.
Lumary Smart Wall Sconces: This light supports simultaneous up and down lighting and RGBWW color switching. It features a portable and modern design, making it compact and stylish.

To obtain the most accurate product prices and discount information, please visit our official website to ensure that you enjoy the lowest prices and exclusive offers.
---