Outdoor Lighting Tips 2023: Don't Waste Money, Follow the Pros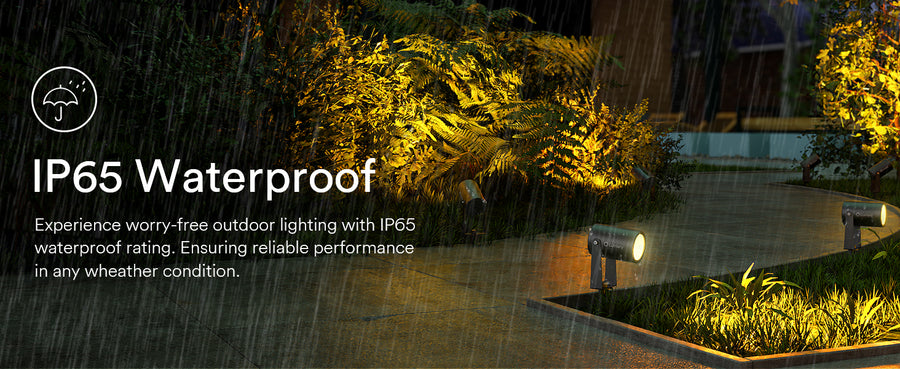 Introduction
Outdoor spaces are an extension of your home. Whether it's a patio, deck, or garden, having the right lighting can transform these areas into a functional and aesthetically pleasing oasis perfect for entertaining or relaxing after dark. When shopping for outdoor lighting, durability, and versatility should be your top priorities. With the right fixtures, you can create an outdoor lighting design that withstands the elements while adapting to your needs. This guide will walk you through what to look for when choosing durable and flexible outdoor lights.
Assess Your Outdoor Lighting Needs: Before choosing any outdoor lighting fixtures, it is essential to thoroughly assess how you plan to use your outdoor living space after dusk. This evaluation will identify the precise lighting needs for both practical and aesthetic purposes. Take some time to consider the following factors:
Atmospheric Lighting: What type of ambiance do you want your outdoor lighting to create? For a relaxed mood, opt for soft, warm-toned fixtures that provide gentle, ambient lighting. However, if you need to illuminate task areas, bright, cool-toned lighting is preferable for optimal visibility. As you assess your space, make note of any areas that will require well-lit task lighting, such as entryways, grill stations, dining spaces, or zones for hobbies/games.
Lighting for Activities: How you intend to use your outdoor area will directly impact your lighting selections. For instance, if you plan to host al fresco dinner parties, the dining zone will need centered lighting fixtures that brightly illuminate the table and seating space. On the other hand, subtly lit lounging areas are ideal for quietly enjoying a good read. Determine what activities you foresee, then choose complimentary fixtures accordingly.
Environmental Factors: Take into account your outdoor environment as well. Are there any spaces exposed to excessive moisture, humidity, or salty sea air that could prematurely corrode lighting fixtures? Make note of these high-risk zones near bodies of water, pools, or irrigated lawns. To withstand the elements, these areas will require durable marine-grade lighting designed for wet environments.
High Traffic Areas: Safety is also a priority, especially in active zones and entranceways. Mark any high-traffic areas and access points that require sufficient illumination for secure visibility and passage during nighttime. Proper lighting in these spaces is both practical for safety and creates a welcoming curb appeal.
By carefully evaluating how you want to use your outdoor area after dusk, you can determine the perfect lighting design plan to serve both aesthetic and functional needs creatively. This assessment will guide you in choosing versatile fixtures tailored specifically for your space.
When selecting outdoor lighting, longevity and durability should be top priorities. Be sure to look for fixtures constructed from rugged, weather-resistant materials built to withstand the elements in your environment.
Metal Housing: For maximum durability, marine-grade stainless steel and brass provide optimal metal housing. The premium corrosion and rust-resistant properties of these metals outperform standard iron or steel. Seek out fixtures with housing made from high-quality, marine-rated metals.
Lenses and Panels: Clear or frosted glass lenses and panels should also be impact-resistant. Opt for tempered glass, which undergoes specialized heat treatment to substantially strengthen the glass and make it shatterproof. Avoid thinner standard glass prone to breaking.
Protective Finish: Protection against chipping, abrasion, and wear should extend to the finish as well. Rather than a painted coating that can chip or peel, look for fixtures with a PVD (physical vapor deposition) finish. This technologically advanced method molecularly bonds an ultra-thin layer to metal surfaces. Compared to conventional paint, a PVD finish far better withstands environmental erosion.
Weather Seals: Moisture, dust, and insects can enter through even the smallest openings. To keep the interior dry and sealed, outdoor lights should have fitted gaskets made of weatherproof material. Check that any wiring holes or transparent panes have a snug, tight seal. High-quality fixtures will be designed for maximum protection from the elements.
By choosing thoughtfully designed fixtures made from durable, rugged materials, your outdoor lighting will withstand the test of time and continue illuminating your space reliably through all seasons.
Opt for Weather-Resistant Features
Outdoor lighting fixtures must be designed to prevent electrical safety hazards and damage in wet environments. Be sure to select units with weather-resistant features:
Moisture Seals: All openings should have tight sealing to prevent moisture ingress. Examine that any wiring holes, light source openings, and transparent panes fit snugly and securely. Units with high-quality gaskets, o-rings, and silicone seals will optimally protect the inner electronics.
Pressure Testing: Quality manufacturers pressure test light fixtures to ensure superior weather resistance. Look for units that pass IP64 or IP65 ratings, meaning they are certified dust-tight and able to withstand low-pressure water jets from any direction. Lights with these ratings will resist rain, sprinklers, hoses, etc.
Durable Materials: For utmost durability, outdoor lights should be constructed from materials designed to withstand extreme temperatures, sun exposure, and impact without cracking or becoming brittle. Opt for fixtures made with resilient polycarbonate or acrylic instead of standard glass. These high-tech plastics will maintain structural integrity.
Secure Mounting: Outdoor lights must also remain firmly attached even under windy conditions. Select mounting hardware options intended for outdoor use, such as corrosion-resistant screws and reinforced brackets. Consider fixed mounts over swivel designs for maximum stability.
By choosing weatherproof designs tested to perform in wet environments, you can illuminate your outdoor space with peace of mind, knowing the fixtures will be safe and durable.
Consider Versatile Lighting Options
Today's outdoor lighting offers incredible flexibility to not only withstand the elements but also accommodate different practical needs and set just the right mood. Seek out fixtures with these versatile options:
Adjustable Brightness: Dimmable lighting affords you adjustable control over the brightness to suit any activity or ambiance. Dimmers built into the fixture allow easy on-site adjustments. For effortless remote control, select wireless remotes or smart lights operated through an app.
Interchangeable Lenses: Opt for fixtures featuring lenses that can be swapped out as needed. Clear, opaque, and colored lenses dramatically modify the lighting effect. Stock up on multifunctional options like frosted lenses to diffuse light or colored lenses to change hues.
Movable Light Direction: It's beneficial to have lights that can angle their beam where needed most. Models with rotating and tilting spotlights make it easy to directly illuminate specific areas at any time.
Zoned Lighting: Separately controlling different zones creates customizable spaces. Use pathway illumination along walkways, muted mood lighting over lounging furniture, concentrated task lighting on counters, and more. Mix and match varying fixtures to design a unique ambiance in each zone.
Automated Controls: For effortless scheduling, smart technology allows you to program lights to turn on/off automatically at set times or based on natural light conditions. Timers and sensors add convenience while conserving energy when lighting isn't needed.
By incorporating adjustable and multifunctional fixtures, your outdoor lighting can easily adapt to serve both practical needs and create a dazzling ambiance from sundown onwards for any occasion.
Choose Fixture Types Suited for Outdoors
The specific lighting fixture types you select for outdoor use will directly impact their longevity and ability to withstand the weather. Certain varieties are designed with rugged, water-tight construction to survive rain, humidity, and temperature extremes. Here are some top options known for durable, weather-resistant properties:
LED Lighting: LED (light-emitting diode) bulbs last up to 25 times longer than traditional incandescent lighting and are vastly more energy efficient. LED technology is also flexible to install in enclosed fixtures rated for outdoor use. Compared to bulbs requiring frequent replacement, a sealed LED fixture endures years of maintenance-free illumination.
Solar Lighting: Solar-powered fixtures absorb sunlight during the day in order to power the light at nighttime. They can be conveniently placed around your exterior space without any wiring required. Look for solar units designed with weatherproof plastics and a sealed internal solar panel to prevent moisture damage.
Pathway Lights: Path lights are mini spotlights installed at ground level to brightly illuminate walking paths, driveways, and garden pathways. Opt for durable, compact path lights made of marine-grade brass or stainless steel, rated for wet location use.
Step Lights: Recessed step lights enhance visibility and safety on exterior stairs, porch steps, and deck steps after dusk. The durable casing mounts into the side of the step or riser. Find code-compliant models encased in a moisture-sealed, rust-proof metal housing.
Floodlights: With their broad beam width, floodlights effectively illuminate large outdoor areas. Heavy-duty floodlight fixtures resistant to weathering are made from either die-cast aluminum or marine-grade stainless steel for maximum corrosion resistance.
In-Grade Lighting: Sunk into the landscape, in-grade lighting systems create subtle up-lighting effects. Cylinder or strip-style housings will hold up over time when made with waterproof connections and a moisture-sealing gasket on the fixture head.
Post Lights: Attached to fence posts or mounted poles, post lights provide aimed directional lighting. Seek out post-top fixtures made of aluminum or powder-coated galvanized steel able to withstand moisture and humidity.
Pendant Lights: Ornamental pendant lights add décor and ambiance to covered outdoor seating areas. For durability, choose fixtures with water-resistant metal pendants and stainless steel suspension cables.
By thoughtfully selecting lighting fixtures engineered to endure the rigors of outdoor environments, you can rest assured your illumination will last for many seasons of enjoyable al fresco living.
Final Words
Prioritizing durable design ensures that your outdoor lighting lasts for years while versatile options let you modify ambiance for both form and function. Take some time to evaluate your space and lighting needs. Then, use this guide to select fixtures tailored to hold up and illuminate your outdoor areas in style through all seasons. With the right lighting, your patio, garden, and yard become a favorite oasis to unwind alone or entertain friends no matter the time of day.
Read More
---