Illuminate Your Wedding With 9 Creative Ways to Use Smart String Lights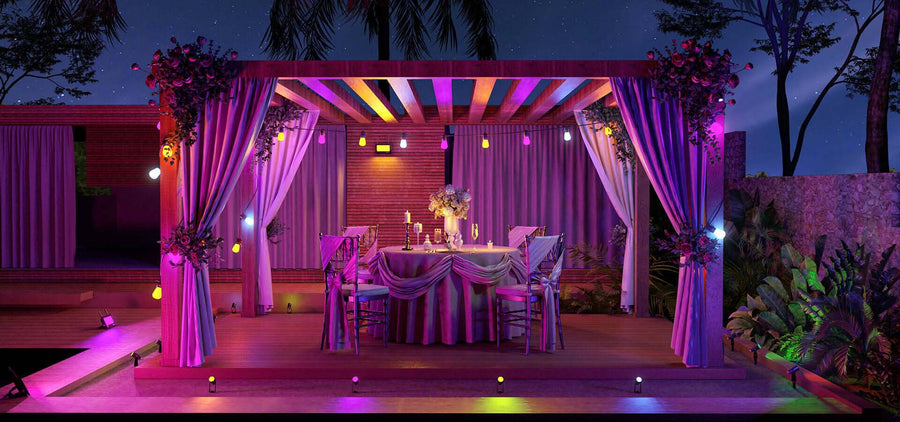 Introduction
Smart string lights have become a hugely popular wedding decoration for both indoor and outdoor weddings. With the ability to control lighting colors, patterns and brightness, smart string lights provide engaged couples an affordable way to create gorgeous, customizable lighting ambiance and really make their wedding décor stand out.
In this article, we'll explore 9 creative ways smart string lights can be used to enhance wedding décor and delight your guests. With a mix of lighting ideas for both outdoor and indoor weddings, you're sure to find inspiration for incorporating smart string lights into your own special day. Time to let your creativity shine!
1. Drape String Lights Above Head Tables
An easy way to use smart string lights to make your head table or sweetheart table stand out is by draping a line of soft glowing lights directly overhead. The lights will create a romantic glow around the focal point where the bride and groom will sit.
For long farmhouse-style tables, zigzagging or crisscrossing the string lights adds extra flair. If your venue has exposed beams, consider wrapping the beams in lights as well. The goal is to make the head table area more visible while setting a warm, intimate mood with the string lighting.
A few well-placed lights can make a huge impact on the ambiance of your reception. With smart string lights, you can even recreate the dinner date vibes of your favorite restaurants right at your wedding!
2. Outline the Dance Floor
Smart string lights are perfect for illuminating and drawing attention to the dance floor at both indoor and outdoor weddings. Use them to outline the edges of the space to clearly define the area. Smart lights allow you to get creative with changing colors and patterns in sync with the music and energy of the reception.
Program them to start brighter when the dancing begins and dim softly during slow dances. Flashing and color-changing lights can transform the dance floor into a club-like party space that gets everybody on their feet.
Let the lights encourage your guests to dance the night away in celebration of your love! The dance floor is guaranteed to be one of the highlights of your reception.
3. Decorate Ceremony Aisles
Lining ceremony aisles with smart string lights is a gorgeous way to illuminate the bridal party's walk down the aisle. The lights add extra flair as the bride makes her grand entrance but also help highlight the aisle for guests trying to get the perfect photo.
For indoor aisles, neatly lining either side of the aisle carpet with the lights provides elegant symmetry. For outdoor weddings, staking lights into the ground makes clean aisle lighting easy to execute. Get creative with lighting colors and program the lights to change as the ceremony progresses.
Lead your bridal party down the aisle in style with personalized lighting. Your ceremony lighting will set the tone for an unforgettable day.
4. Wrap Trees or Columns with Lights
Wrapping structural columns, trees, or gazebos with smart string lights makes for brilliant outdoor or indoor wedding lighting. The soft white glow of lights wrapped around pillars, columns, tree trunks, or branches makes these elements pop while adding an ethereal ambiance.
Position wrapped trees or columns along the ceremony or reception perimeter or near seating areas to provide perfect accent lighting that isn't overbearing. For outdoor tents, find creative ways to hang string lights from the exterior tent poles as well.
Make Mother Nature an extension of your wedding décor by incorporating trees and other structural elements into your lighting plans. Let the lights highlight the beauty of your venue's natural features.
5. Illuminate Staircases
Grand staircases undoubtedly make bold statements at indoor wedding venues. Using smart string lights to outline staircase banisters and the undersides of steps is a jaw-dropping way to spotlight this focal feature.
The glowing lights highlight and accentuate the architecture while improving visibility and safety for guests traversing stairs in formal wear. For outdoor ceremonies and receptions as well, lights can draw attention to stairs, pathways, and stone steps.
Guiding your guests with smart staircase lighting sets the stage for a sophisticated, upscale affair. Illuminated stairs make a glamorous focal point for photos too!
6. Light Walkways and Paths
Speaking of pathways, smart string lights are extremely useful for illuminating walkways that connect different areas of your wedding venue, both indoors and outside. Lining stepping stones, garden paths and other walkways with soft white string lights guide guests safely around with subtle mood lighting.
Rather than bright floodlights, the string lights outline the shape, direction, and edges of paths in a much more decorative way. This is especially helpful for guests navigating between an outdoor ceremony and a tented reception or moving between a hotel lobby and a ballroom, for example.
Strategic walkway lighting improves the flow of your event so guests can easily find their way. Plus, the twinkling lights add magic and whimsy to their journey.
7. Outline Architecture and Structures
For couples getting married in unique outdoor venues like barns, pavilions, historic buildings, or even backyards, smart string lights allow you to creatively outline the exterior architectural details. Outlining the roof lines, doors, windows, and support beams highlights the bones of the structure.
You can get super creative with crisscrossing, looping, and hanging lights to accentuate features. This is gorgeous lighting for cocktail hours, al fresco dining receptions, or ceremonies with a view.
Your venue has so much beauty already - smart lighting simply enhances its best features. Let your lighting display the character of your venue.
8. Light Up Photo Backdrops
Photo backdrops are a must-have wedding detail, and smart string lights add the perfect accent lighting to make backdrops pop in photos. Provide a soft glow by flanking the backdrop or positioning lights above to shine down.
The ambient lighting provides a nice fill and highlights the backdrop without being too harsh, like a strobe. For outdoor photo booth backdrops, hang string lights on the exterior frame or position them overhead for gorgeous photos day and night.
With a well-lit backdrop, your wedding photos will dazzle. Accent lighting takes your pics from meh to magnificent!
9. Illuminate Bar Areas
Bars and beverage areas are hubs of activity at weddings. Hang smart string lights above and around bar areas to attract guests' attention while also providing atmospheric lighting as your guests grab drinks. Outline the edges of the bar with lights or accent décor like greenery and signage.
Extend lighting to highlight nearby seating areas as well. The right lighting transforms plain bar setups into focal features for cocktail hours and receptions. Make sure lighting is visible from afar so guests can easily find the drinks!
Lead your guests to the open bar with eye-catching lighting designs. Creative bar lighting encourages mingling in a relaxed, lounge-like setting.
Conclusion
Use this guide as a starting point, then embrace your own vision. Let smart string lights enhance your décor and set the scene for an unforgettable day filled with love and light. Your personalized lighting will shine a light on all of the special moments you've been dreaming of. Let your wedding glow reflect the joy in your hearts!
Read More
---