The Best Outdoor Smart String Lights in 2022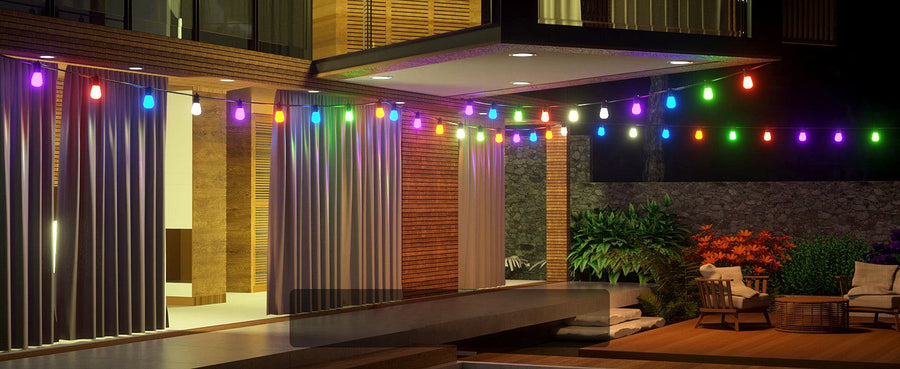 In the hot atmosphere of the annual Halloween holiday, outdoor lights deservedly the most worthy concering lightings. Among them, the strip lights, string lights and landscape lights are the most eye-catching in Halloween. Over the past few years, string lights have become more and more ordinary, especially during the Halloween season, and it's easy to see why the string lights is increasing dramatically. It's not only representative of romantic parties, but they are also the most essential of outdoor light collections.

As a representative brand of smart lightings, Lumary has compared the advantages and disadvantages of all famous brands of lights on the market and developed the best smart outdoor string lights. To be the best one, a recognized good string lights needs to have the following features.
Support Voice Control
By binding Amazon Alexa, Google Home Assistance or other smart speakers to voice control the string light switch, light colors, color temperature and scene dynamic changes, free your hands and enjoy the current Halloween holiday.
Thicker, Thicker and Longer Wires
Lumary's PVC wire is twice as thick as Govee's, and the wire is wrapped in a high-strength material that makes it easy to break. To ensure the integrity of the entire cable is not easy to break.
Better materials and craftsmanship
Super strong PVC and PC hybrid material, not only in hardness and thickness than the general PVC line is tougher and longer life.
Excellent waterproof capability
The IP65 waterproof capability ensures that it will work perfectly in the night of heavy rain and other extreme weather. Without worrying about your Halloween being messed up because of bad weather.
Individual damage does not affect the whole
If one of the bulbs is broken and does not light up, all the other lights will still work properly. Using exclusive technology to ensure that each bulb is working independently, maximizing your savings on maintenance costs.
Music synchronization
By bundling the Lumary app, the lights will dance to the rhythm of music and support DIY scene modes for all indoor and outdoor occasions, creating a comfortable atmosphere for gardens, bars, cafes, balconies, weddings, birthdays, barbecues, parties, holidays, Christmas and Halloween.
Touch Control to Change Colors
Support individually control and switch a bulb light colors, even support DIY scenes
---