The Best Smart LED strip lights--Lumary Smart LED strip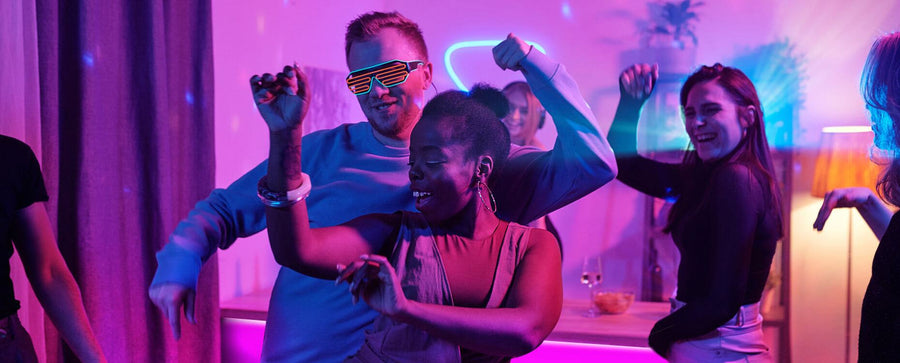 Philips Hue LightStrips are vibrant, easy on the eyes, and hard on the wallet. You'll pay $65 for six feet (two meters) of LEDs, not including a hub. But why spend that much when you can buy alternatives for far less?

LED strip lights brighten a room or add some much-needed color. They're easy to install and use, and create excellent ambient lighting. But you usually control standard LED strips with an Infrared (IR) remote. Unfortunately, those IR codes often overlap with TV IR remotes, which leads to conflict. You might turn up the volume on your TV and notice the lights turn red. When you turn down the volume, your lights might flash random colors. Smart LEDs bypass IR altogether to avoid this frustrating issue.

Philips Hue offers some of the brightest, most colorful, and most expensive smart LED strips out there. But if you're willing to settle for something that's nearly as bright and colorful, we've found some alternatives that will leave more money in your wallet.

How to Choose an LED Strip
When you buy LED strips, you have to consider a few things:

Length: LED strips come in different lengths and, surprisingly, the more expensive options (like Philips Hue) tend to be shorter. Philips Hue LED strips are available in six- and four-foot lengths. Most companies that sell inexpensive strips offer them in sixteen- and thirty-two-foot lengths. Measure the space you plan to cover, and then order an LED strip that's longer. You can cut most of them if necessary.
Multiple Strip Connection: Sometimes, you might want to cover an odd length of space that isn't available, like 20 or 40 feet. It's unlikely you'll find an LED strip that long, so the solution is to connect two (and cut down the second, if necessary). But if the strip's power adapter isn't powerful enough, that might not be possible. Check with the manufacturer if it doesn't recommend connecting more than one strip.
Dedicated White LEDs: Check for the following abbreviations: RGB (Red, Green, Blue) and RGBWW (Red, Green, Blue, Warm White). RGB strips balance red, green, and blue together to create a harsh, white light. RGBWW LED strips have a dedicated white LED that alternates with an RGB LED.
Typically, the white LED is tunable, which means you can change the shade of white from warm to cold, and back again. These white LEDs are easier on your eyes than the RGB LEDs forced to white.
If you don't plan to put your LEDs on a flat, horizontal surface, you might need an adhesive. Every set of inexpensive LEDs I've ever used has had terrible adhesive. Within one day, any LEDs I'd mounted from a ceiling, wall, or another vertical surface inevitably fell. Even cleaning the surface first didn't make a difference.

Most double-sided tape is thick, expensive, and overkill. That extra thickness causes uneven bumps in the LED strip. Carpet tape, though, is extremely thin and strong. You can cut it into thinner pieces, apply it to the bottom of the LED strip, and then remove the second paper side before you mount the lights. This should hold your LED strips to nearly any vertical surface.
If you want to brighten a dim room with a white light that won't hurt your eyes—and add a splash of color—Lumary has a great option. You connect this 16-foot (five-meter) RGBWW strip via Wi-Fi. It's also compatible with the Smart Life app, which means you can set it up with Amazon Alexa or Google Assistant for voice control.

The one downside is the company doesn't recommend you connect more than two strips to a single power adapter.
By comparison, though, you'd spend around $136 for 16 feet of Philips Hue strips, not counting the additional Hub. At this writing, the Lumary strip is $78.

The Best RGBWW CW Smart LED strip

Shop Now

Smart WiFi LED Strip Lights - Lumary RGBWW Color Changing Rope Lights Compatible with Alexa Google Home Music Sync Phone Control 16.4ft for Party Home Decoration (16.4FT/5M)
This Wi-Fi compatible strip sports RGBWW LEDs to give you a white light that isn't harsh on the eyes. At 16 feet, the strip should stretch across most rooms.
RGB LEDs: Lumary RGB LED Strip Lights
The Lumary RBG Strip Lights, with box.
If you want to save a few dollars, you can skip the dedicated RGBWW LED and settle for this RGB strip. As we mentioned above, these combine red, green, and blue to create white light, but it's harsher than a dedicated white LED.
If you know you always want color, or the harsher white light doesn't bother you, you get all the same Wi-Fi benefits you'd get with the RGBWW strip, including the 16-foot length.
The Best RGB WW Smart LED strip lights

Smart WiFi LED Strip Lights - Lumary Color Changing Rope Lights Compatible with Alexa Google Home RGB Strip Light 16.4Ft Music Sync Phone Control for TV Bedroom Party Home Decoration
A good set of Wi-Fi lights that offer RGB LEDs, this Lumary set connects to the Smart Life app, Google Assistant, and Alexa.
Source: Josh Hendrickson
---