Halloween 2023: Build a Frightful Exterior with RGB + WW Lighting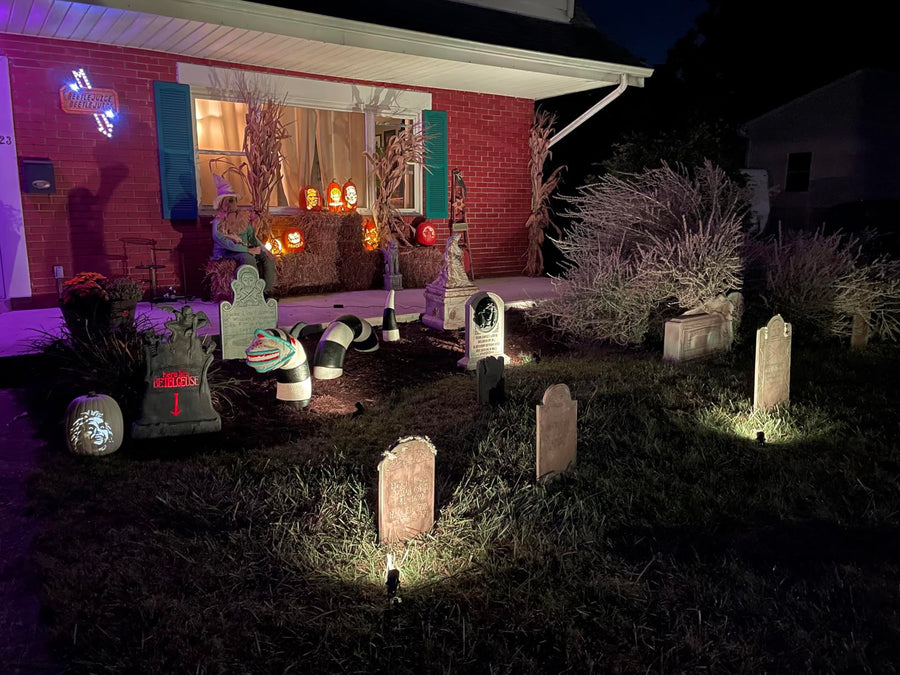 Introduction
Halloween is the perfect time to get creative with outdoor lighting and decorate your home with a spooky, custom ambiance. Lumary RGBAI Permanent Outdoor Lights feature advanced RGB+WW technology for superior color rendering and brightness. While traditional orange and purple string lights work, day's RGB + WW smart lighting unlocks a new world of possibilities. Learn how color-mixing and animated RGB + warm white technology can completely transform your home into a haunted Halloween haven.
Unleash Your Creative Ideas With RGB + WW
RGB smart bulbs feature full-color mixing capabilities using the red, green, and blue spectrum. This allows you to choose from virtually any color for dramatic lighting effects. Imagine combining this with warm white (WW) bulbs for balance.
Together, RGB + WW gives you the versatility to decorate in more unique and vibrant ways. Use RGB to set the theme with specific color palettes. Then add WW for general glow and highlighting key decorations. This combo is perfect for creating customized zones and effects for Halloween.
Here are some of the benefits of using RGB + WW lighting:
Pick any color - from bold orange to ghostly purple, to eerie green, and more
Balance and blend colors with warm white for a natural look
Customize different areas with coordinated color schemes
Animate with flashing, fading, and color transitions
Set schedules to automate on/off times each night
With RGB + WW, you can design a stunning exterior lighting display with complete creative control.
Creative Designs for Haunting Looks
Ready to start planning your frighteningly good lighting? Here are some ways to leverage RGB + WW for decorating:
Bathe your home in color. Use spotlights or strand lights to cast colors onto exterior walls, siding, shingles, or fencing. This instantly transforms the look of your home for the season.
Silhouette and spotlight landscaping. Backlight trees and bushes to create spooky shadows and shapes. Illuminate key yard art and props.
Guide the way with pathway lighting. Line walkways and stairs with RGB color-changing effects to set the scene. Encourage trick-or-treaters to explore.
Decorate props and décor. Wrap pillar lights, wreaths, faux gravestones, figures, and more with strands. Customize colors to match themes.
Transition spaces. Coordinate indoor entryways, porches, and patios with your outdoor lighting schemes. Carry the ambiance inside.
Enhance with accents. Add in flicker flame bulbs for candles or fireplaces. Scatter pathway "eye" that glows and follows visitors.
Expert Tricks for Programming and Placement
Strategic programming and placement of your RGB + WW lights are key to maximizing impact. Here are some tips:
Pre-program lighting shows in an app to easily activate different scenes on demand. Sync up music and effects for a show.
Vary animation styles and speeds throughout your display. Use flashing, chasing, fading, transitions, and more for interest.
Use warm white as your base color to fill and highlight areas. Overlay colors for accents. WW balances and blends colored effects.
Spotlight standout props, landscaping, or architectural features you want to call attention to.
Focus lights in key areas where they'll make the biggest difference, not just scatter them everywhere.
Follow lighting plans to evenly distribute colors and animations throughout your space.
Set schedules so lights automatically turn on around dusk and off later at night when finished.
With smart planning and strategic use of RGB + WW, you can decorate your yard and home with custom personalities and themes for Halloween fun.
Conclusion
Lumary RGBAI permanent outdoor smart lighting makes it simple to create unique Halloween-worthy curb appeal and transform your home into a neighborhood fright destination. With the ability to mix colors, themes, animations, and schedules, your creative decorating possibilities are endless.
Invest in a few strand lights or spotlights to experiment with dramatic coloring and effects this season. Add accents each year to slowly build your display. With smart lighting, a little goes a long way, thanks to customization and programming.
Soon, you'll be the talk of the town during Halloween strolls for your cleverly decorated home exterior. So go ahead, get creative, and use the power of RGB + WW to put together a haunted house exterior that's gorgeous!
Read More
---