Smart String Lights for Backyards Light Up Your Summer Nights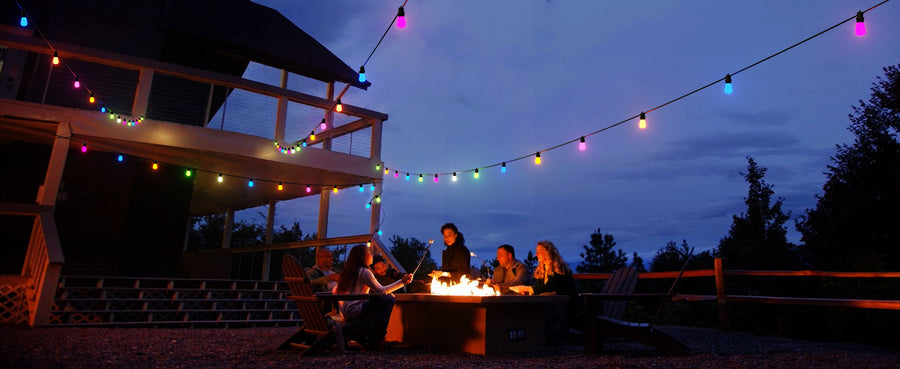 As soon as the warm summer nights arrive, it's time to fire up the barbecue and gather around the crackling bonfire. But once the sun goes down, how do you keep the backyard fun going into the late hours? This is where smart string lights come in. With customizable colors, voice and app controls, and brilliant lighting effects, smart string lights are the perfect way to illuminate your outdoor spaces to match any mood or activity after dark. Let's explore how they can take your backyard hangouts to new heights.
Benefits of Decorating with Smart String Lights
Tired of string lights that just hang there looking boring? Well, get ready to have your mind blown by smart string lights! With customizable colors, adjustable brightness, voice controls, and super durability, these lights are the life of the outdoor decor party.
1. A Variety of Color Options
Unlike old-school string lights, smart LED lights let you pick from tons of colors and custom hues to match any mood or event. Having full RGB mixing capabilities opens up so many possibilities.
2. Adjust the Brightness
With smart lights, you can easily control the brightness level from a soft glow to a brightly lit one. This makes it easy to set the perfect ambiance.
Smart lights are designed to handle the outdoors. Their weatherproof casings mean you can use them in rain, snow, and humidity - no worries about damage.
Beyond just lighting up your yard, smart strings allow for creative fun. Outline paths, trees, structures - anything! Change colors for holidays or seasons too. Add your own personal flair.
Smart String Lighting Ideas for Bonfires
Ready to take your bonfires from basic to spectacular? These lighting ideas will totally transform your space.
1. Light the Way
Use smart string lights to illuminate pathways leading to the bonfire and wrap them around seating areas. This helps guests navigate safely to grab drinks, make s'mores, or find a place to sit and chat without tripping over logs in the dark. Consider lighting the perimeter too so people know the boundaries of the hangout zone.
2. Draw Attention to the Star (the Fire!)
Keep lights low and strategic to let the bonfire be the brightest focal point. Trace the fire pit or stacks of wood with lights to accentuate their shapes and edges. A few strings draped over logs surrounding the pit add a nice glow enhancing the fire itself.
3. Set the Ambiance from Above
Creating an overhead canopy of string lights gives your bonfire setting a magical, enchanting feel. Drape lights from tree branches, poles, pergola tops - anything around the space high above guests' heads. The lights up top add a welcoming glow.
The color-changing abilities of smart lights let you create different vibes. Cool blue or green hues create a relaxing atmosphere. Warm reddish tones energize and excitement. You can even mimic the flickering of the flames with synchronized lighting effects. Get creative with different colors and motions!
Smart Lighting to Illuminate Backyard BBQs
Lighting for backyard barbecues can make the space both functional and inviting after sunset. Smart string lights allow for ample illumination while also adding personality.
1. Define Your Party Zones
Trace your patio, food stations, and lounging areas with lights to create festive boundaries. It's like a spotlight on your stellar party zones. Consider outlining gardens, fire pits, or lawn games as well. Different colored lights can designate the dance floor versus eating areas too.
2. Light It Up at Different Heights
Wrap string lights on fences, hang them from trees, edges of roofs - use different heights for a totally chill atmosphere. Varying the elevation makes things feel cozier and more three-dimensional. You can even crisscross lights above seating nooks for an intimate feel. Play with positioning lights high, low, and in between throughout your space.
3. Don't Leave Guests in the Dark!
Make sure areas like food and drink stations are nice and bright so guests can see. Safety first, fun second! Extend lighting to high-traffic zones like steps and pathways too. The right amount of brightness makes parties safe and easy to navigate.
4. Set Table Vibes
Drape pretty lights over tables and seating nooks for Instagram-worthy relaxation areas. Use colors that match dishes and drinks! Low-hanging overhead lights feel modern and sleek. For a more romantic vibe, wrap lights intricately along table edges and legs. Lighting can totally transform tables' ambiance.
How to Pick the Best Smart Lights
With many smart string light options on the market, here are the top things to consider:
All the Colors:

Find full RGB smart lights so you can choose from endless colors to get the perfect party vibe.

Dim and Brighten With Ease

: Adjustable brightness lets you go from soft and moody to crazy bright. Perfect for setting the mood!

Smart Controls are a Must:

Lights you can control from your phone or sync with voice assistants are a game changer!

Built to Withstand the Elements:

Durability is a biggie for outdoor lights. Make sure yours can handle all types of weather so the fun never ends!

Automate Your Light Show:

Programmable timers, schedules, and modes will make you feel like a lighting wizard!

Avoid Installation Frustration:

Look for simple mounting clips, hooks, magnets - anything to make hanging lights a breeze.

Size Matters:

Buy adequate length or you'll be stuck with dark spots. Plan ahead to illuminate your entire space.
Brighten Up Your Night Gatherings
Smart string lights give you the power to design stunning, customizable lighting for every summer night occasion. Use them to set ambiance, provide safety, and take your bonfires, barbecues, and gatherings to the next level as the sun sets. With innovative smart features, you can easily control a spectrum of colors, effects, brightness settings, and automation. Brighten up your yard and patio to match any vibe you want. Smart lighting ensures the party continues on long after sunset. Give your nights a dazzling makeover this summer with the magic of smart string lights.
---