Black Friday Outdoor Lighting Deals: Get Dazzling Discounts Now!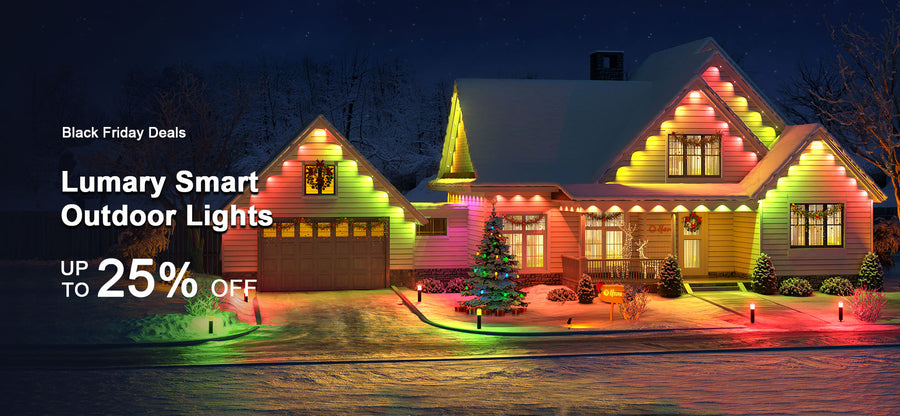 The most wonderful sales of the year have arrived! This Black Friday, which falls on November 24th, 2023, retailers are offering unbelievable deals on outdoor lights so you can make your home shine bright for the holidays and beyond. Keep reading to find all the can't-miss bargains that will help you create an absolutely stunning outdoor lighting display.
Want your home to be the envy of the block this holiday season? Well, get ready for your neighbors to go nuts over the amazing Lumary Smart RGBAI Landscape Lights Pro - now on sale for Black Friday!
These cutting-edge RGBAI landscape lights take outdoor illumination to the next level with:
Fully customizable color changing - Shift between 16 million different colors and preset/customized scenes to create your ideal ambiance.
Individual light control - Tailor color, brightness, and effects for each light via a smartphone app
Maximum durability - Aluminum housing and 65ft cord withstand weather elements.
Ample brightness - 500 lumens per light for excellent visibility and safety
Easy installation - Flexible cord allows for convenient placement
Smart functionality - Control patio light schedules and sync color changes to music with the Lumary app
Major savings - Get a set of these exceptional lights for just $189 with code LS60 this Black Friday, down from $249!
With advanced RGBAI technology and app control, the Lumary Smart RGBAI Landscape Lights Pro makes it easy to illuminate your home in breathtaking style this holiday season. And at this unbeatable Black Friday price, there's no better time to create a show-stopping outdoor lighting display!
2. LED String Lights: Light Up Every Occasion
Tired of the same old string lights? This Black Friday, elevate your decor with the Lumary RGBAI WiFi & Bluetooth Outdoor Bulb String Lights. These smart string lights make it easy to set the perfect mood for any occasion.
Holiday charm - Choose from festive presets like "Christmas" or "Valentine's"
Ambient patio lighting - Set a warm glow for evening relaxation
Party time - Sync lighting to music for an instant dance floor
Special events - Match colors to birthdays, weddings, BBQs and more
Schedule auto on/off times - Lights welcome you home on autopilot
With customizable color changing, individual bulb control, 100ft length, and weatherproof rating, these LED string lights are ready to light up any holiday, party, or everyday moment. Voice and app controls make operation a breeze.
Durable enough for permanent outdoor use but beautiful enough for indoor decoration, these versatile string lights eliminate the need for single-use seasonal lights. And with replaceable bulbs, the party never has to stop.
Make every occasion special and save big this Black Friday with 11% off Lumary RGBAI WiFi & Bluetooth Outdoor Bulb String Lights - reg. $89.99, now just $79.99!
3. Brighten Pathways with Smart RGBAI Path Lights
This Black Friday, light up your outdoor spaces in style with the Lumary RGBAI Smart WiFi Pathway Lights - now 29% off!
These smart pathway lights make it easy to create an inviting ambiance and enhance safety:
Set the mood - Create a lively, calm, or romantic ambiance with color options
Highlight landscaping - Accent garden beds, trees, potted plants and hardscapes
Light the way - Brighten and guide walkways, driveways and staircases
Schedule colors - Wake up to warm white, come home to a rainbow
Sync to music - Lights dance and change for outdoor parties
Withstand weather - Keep lights in place despite rain, snow or heat
Quick installation - Optimized design for pathways, driveways, gardens
With brilliant RGBAI technology and intelligent app controls, these pathway lights are both functional and festive.
Illuminate your home in holiday cheer or year-round style with smart technology! At just $219.99 for a 6-pack this Black Friday (reg. $311.99), now is the time to brighten up your exterior pathways and gardens with Lumary.
4. RGBWW Outdoor Spotlights: Custom Color Lighting
Looking for signature outdoor illumination? The Lumary Smart LED Outdoor Landscape Lights RGBAI Outdoor Spotlight 6-pack allows you to bathe your home in your perfect colors this holiday season.
With advanced RGBWW technology, you can individually adjust each of the 6 spotlights to create a vibrant, coordinated display:
Holiday magic - Choose bold reds and greens for Christmas or orange and purple for Halloween
Soothing ambiance - Create a calm mood with soft whites along your patio
Accent lighting - Illuminate focal points like trees and fountains
Safety and visibility - Brighten walkways and entryways in customizable shades
Schedule color changes - Set the lights to transition from evening amber to midnight blue
Automated control - Arrive home to lit landscapes without lifting a finger
Withstand weather - Keep spotlights in place through any conditions
Flexible placement - Position lights exactly where needed with 56ft cord
Take your outdoor decorative lighting to the next level with fully customizable spotlights. The Lumary Smart RGBWW Spotlights make it easy to set a festive mood or year-round ambiance.
At 11% off for Black Friday, now is the time to give your home an exterior lighting makeover for less! Transform your landscape with six customizable spotlights for just $178.99 (reg. $199.99).
5. Sleek Wall Sconces: High Tech Meets Subtle Style
The Lumary Smart Wall Sconce Light, now 8% off for Black Friday, is a versatile way to illuminate your exterior spaces in style. This sleek LED wall light blends subtle design with smart technology.
Use it to set the scene in any outdoor setting:
Front porch - Greet guests with a warm glow
Back patio - Set a lively ambiance for evening fun
Landscaping - Highlight trees, fountains, and pathways
Driveways - Improve visibility and safety
With adjustable color temperature and 16 million customizable hues, you can instantly match the light to any moment or mood. The durable, weatherproof design means this wall sconce can enhance outdoor spaces year-round.
Control lighting via app, voice, or set schedules for added convenience. Dial in the perfect light levels and colors for any outdoor space with the Lumary Smart Wall Sconce - now just $54.99 for Black Friday!
6. Bird Watching: Smart Feeder With Night Vision Camera
Want to identify feathered friends flocking to your yard? The Lumary Smart Bird Feeder Camera, now $50 off with code LB50 for Black Friday, lets you observe birds up close right from your smartphone!
This gadget enhances backyard birdwatching:
Live video stream - Watch feeder activity in real-time
Night vision - See birds clearly even after dark
Species recognition - AI identifies over 10,000 types of birds
Remote monitoring - Check the feeder remotely when away from home
Enhanced connectivity - Strong WiFi connection to your network
With this solar-powered smart feeder, you'll gain valuable insights into the behaviors of local birds visiting your yard. Crystal-clear images and footage allow you to get up close without disruption.
Take your birdwatching hobby to the next level! Don't miss out on the Lumary Smart Bird Feeder Camera for just $149.99 this Black Friday.
Seize the Savings this Black Friday!
This Black Friday, retailers are dishing out epic deals on outdoor lights to meet your holiday decor needs. Take advantage of these bargains to illuminate your home in festive style at budget-friendly prices!
From color-changing spotlights to app-controlled string lights, this year's Black Friday sales allow you to deck out your home with the magic of customizable, smart technology. With major discounts like these, now is the perfect time to enhance your home's exterior lighting.
Brighten up your home and holiday festivities this year with these can't-miss Black Friday sales on innovative outdoor lights. Act fast – the best deals won't last for long! Start saving today.
Read More
---