Lumary light up your Home smartly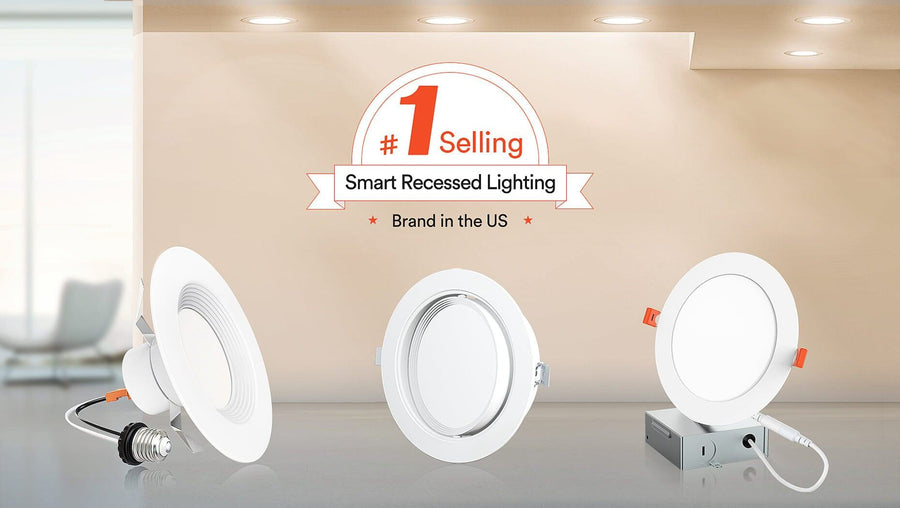 Lumary has an innovative new concept. Let's talk about their unique bright ceiling light, currently in production. The understated light, which is modern in appearance, is made up of three separate lamp beads that can be used to change brightness, hue, and color temperature simultaneously. No stranger to creative concepts, Lumary is a consumer favorite for offering Phillips-level quality at a substantially lower cost. Lumary, a pioneer in smart recessed lighting that redefines functionality, design, and quality for every consumer regardless of price, has unquestionably entered the picture.
The Six-inch Smart Canless Recessed Lights continue to be noteworthy items with a color palette of sixteen million shades to illuminate a space. The wifi smart ultra are simple to install and provide a broad variety of colors to illuminate in addition to supporting warm white and cool white from 2700K to 6500K. Conveniently, the LED recessed lights will turn on and off automatically through any shared device after 25,000 hours of use. Through the Lumary app, Amazon Alexa, or Google Assistant, the lights can be managed collectively or individually. In essence, the user has access to the entire universe of lighting with just a voice command.
Lumary automatic lights
With this perspective, consider making a personal schedule. Allow smart lighting to automatically change to a calming light that gently dims or brightens as you go to sleep or wake up. In order to achieve biorhythm function, dawn and sunset will be simulated. Consider developing a different immersive experience now. Watch the smart recessed lights automatically flash and change color in time with the beat by selecting a song, movie, or gaming sound. With their Music Sync technology, the lighting retrofit will indeed even dance and change colors. And to think, this four-piece set is offered for a pitiful $129.99 with an ultra-thin body, no flicker, no hub, and silent 1% to 100% smooth dimming. That qualifies as a soffit lighting idea, right?
Manager at Lumary Jack Smith stated, "With the exception of Philips, we are the best option for smart downlights. We're committed to using Internet of Things technologies to bring about the lighting revolution. To smoothly communicate with people, home lighting should be amusing and intelligent. We are a smart home brand that is affordable and simple to use. A wifi smart gimbal series, smart light switch series, smart in-wall outlet series, smart hub, smart LED strip series, smart garage door opener, and UVC light series have all been developed and put into mass production by Lumary in the past two years.
Lumary energy-saving lights
Over the past ten years, the entire Lumary lightbulb sector has undergone significant upheaval. In reality, what started as a personal decision to possibly pay more for bulbs while making a deliberate effort to be environmentally sensitive has evolved into not just the standard but also a movement that is governed by the government.
The selection of Lumary lightbulbs at big box stores like Target and Walmart and home improvement chains like Home Depot and Lowe's has already undergone a full shift, making inexpensive, energy-efficient bulbs the only in-stock option for the majority of normal application lightbulbs.
Although decorative or specialized bulbs are still available in the incandescent form, stores normally only keep them in stock to support the luxuries in a typical home's light fixtures.  
Lumary lights features
Through the Lumary App, retrofit lights can be dimmed and their brightness adjusted. Alexa and Google Assistant-compatible smart retrofit recessed downlight. Your retrofit smart recessed lights may be turned on or off and have more colors adjusted with a simple conversation. Give your hands up. SUPPORT ONLY 2.4GHz.
Simple to Install and Remove stretchy triangle-leg design smart can lights. Complete the installation and removal in one second. Turn the housing counterclockwise to complete installation, then clockwise to complete removal.
LED Can Lights in Color Multi-scene options for smart wifi recessed lights can be selected and modified. There are 16 million color brightness options and three different light styles, including flashing, breathing, and static. The speed of the flashing can also be altered. Lumary smart retrofits use the most recent LED flicker-free technology, which turns them on instantly.
Setting can light in a group To control all of your wifi smart ultra thinat once, group them together in your house using the Lumary App. Additionally, you can set up various groups in the kitchen, living room, bedroom, etc. at the same time.
E26 Adapter and TP 24 connector are already included with the "Smart Recessed Downlight," thus no other accessories are needed. Ideal for recessed housing cans that are 5" or 6" in diameter and height.
Control the Lumary smart home product
We appreciate you choosing a Lumary smart home product. Are you prepared to begin? For direct control of your switches and other Lumary devices from your phone or tablet, download the Lumary app. Easily connect to your home Wi-Fi and manage numerous devices with a single touch.
Some system requirements for lumary smart control
the current neutral wire
Existing single pole, one-way (not multiple locations), deep box light switch
phone running Android 4.1 or iOS 9® or later
4GHz Wi-Fi network already in place (not compatible with 5GHz Wi-Fi networks)
App Lumary
A neutral wire and a single pole are needed for TAP. TAP is not a multi-location switch; it is a one-way switch. If you are unable to discover a neutral line or are not familiar with electrical systems, please contact a certified electrician.
Conclusion
Most of the bulbs on this list can be scheduled or controlled remotely, which is fantastic if you want to save money on energy expenditures or frequently forget to switch off the lights before leaving the house. They also save you from being in the dark. Some lightbulbs may switch on or off automatically when you enter or exit the house because they employ geofencing, which uses the GPS in your smartphone to detect your precise location. Mood lighting is excellent with color-changing bulbs, and some of them may even coordinate with specific movies and TV shows.
---