The best RGB smart light strips of Lumary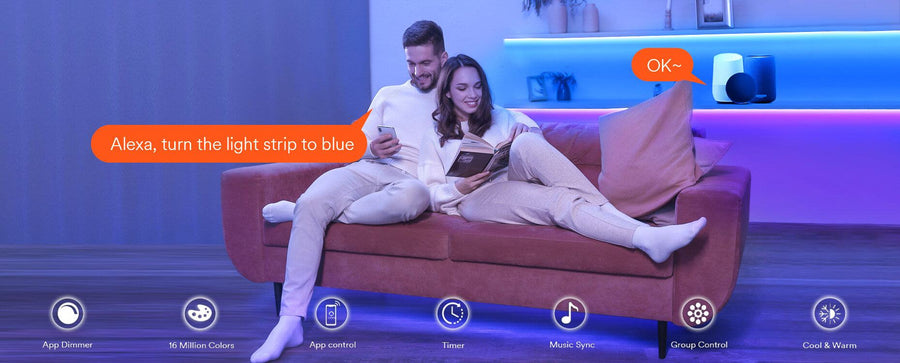 The best smart light strips of Lumary: Lumary Wi-Fi RGB LED Light Strip

Smart light strips bring illumination and color to dim spots, like under kitchen cabinets.

They also work as night lights or as mood lights.

Smart light strips can be controlled from your phone and by voice-activated assistants like Alexa.

Light strips can transform the look of your home. With adhesive backing that enables them to stick virtually anywhere the only limitation is the need for a power outlet. They are designed to be concealed under cabinets or shelves, and behind TVs or panels, so that you only see the light they emit.

The Lumary app is very straightforward and reliable. You can change the brightness, color, and color temperature of your strip; choose different scenes; and create routines. If you want to schedule your light strip to come on or turn off automatically, control it when you're not at home, add additional accessories like motion sensors or smart switches, or sync with music, you need a Lumary APP. The bridge also makes for a faster and more reliable connection than Bluetooth.

Lumary app connects the strip directly to your Wi-Fi and offers additional features, such as a timer, sliders for brightness and color temperature, and a selection of scenes, including animated multicolored scenes. You can also select colors individually for different segments of the strip and you can create your own scenes via the DIY option. This light strip also supports Alexa and Google Assistant for voice control.

The H6163 version 16.4 feet long with an adhesive backing and was easy to install. I stuck these light strips on the underside of a wooden bed frame and behind a large cabinet without any issues. You can cut it if you need to, but you can't extend it.

Lumary Wi-Fi RGB LED Light Strip Affordable, versatile, and easy to use, the Lumary Wi-Fi RGB LED Light Strip is an irresistible bargain for anyone with a limited budget.The length of the Lumary Wi-Fi RGB LED Light Strip reaches 16.4ft, which is very cost-effective.

As a company dedicated to smart lighting, Lumary has a professional development team and a mature production chain. Its products mainly include full-function light strips, RGB led strip lights,led lights for bedroom, panel lights, ceiling lights, wall switches, fan switches and smart bulbs, etc. Colorful life, Lumary is with you.
---